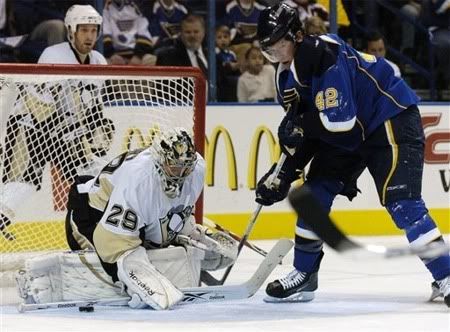 By Brad Lee
The word effort has very distinct connotations in hockey.
A player with good effort remembers his assignments on defense. He skates hard his entire shift and gets off the ice in a timely fashion. He also busts his ass to get back on defense. He fore checks and back checks, doesn't take dumb risks in the neutral zone with the puck. He plays hard every shift. He goes to the net, he doesn't take dumb penalties and he always keeps his feet moving. He's a good teammate.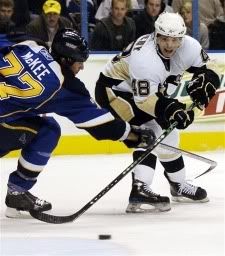 The number of players on the Blues right now showing good effort night in and night out might fit on one hand. That's why the Blues are struggling right now. It's not like the players aren't trying. They are. And it seems like they care. But it's painfully clear several members of this team are not committed to doing the little things it takes to win every single night.
"We're not working hard enough. We're not working hard enough to get pucks on net. And it shows. That's why we're losing games," Brad Boyes told reporters Saturday night after the Blues lost 6-3 at home to the Pittsburgh Penguins. "We work hard for one period and we expect to win. It's not the way it happens in this league. Teams like Detroit, Pittsburgh - teams that make it to the Cup - the reason they make it is because they work."
Saturday's loss was a winnable game. The Blues led 2-1 after the first period despite only getting four shots on net in the opening 20 minutes. The Drinkscotch Center was full and rocking early. The Blues scored first for a change. There was some spirited play after the whistle, especially for two teams that see each other once a year - maybe. Penalties were nearly even. And then the Blues fell apart in the second period.
The Penguins were more assertive with the puck. Pittsburgh capitalized on a power play with an Evgeni Malkin goal to take the lead in the second period. And then with the Blues demoralized, the Penguins scored 37 seconds later. A disallowed Blues goal on a high stick didn't help the cause and it was all over but the postgame drinking.
"That's what a lot of what this game is, is effort, second chances, second opportunities," David Backes told reporters. "The effort is the base of any team's success. When we don't have that like tonight or against Carolina, you put another loss in the column and have another bad feeling around here."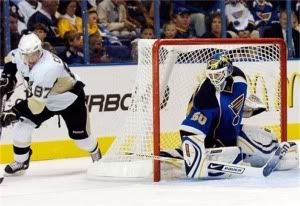 The Blues ended their longest home stand of the season with a 3-4-0 record. For a team that started 4-1-0 and has talked about playing aspirations, that's simply not good enough. They know sit at 5-5-0, good for 10 points on the season. That's a pace of 82 points, at least a dozen short of what would be competitive for postseason play. Only three teams in the Western Conference have fewer than 10 points on the season. And it's not going to get any easier.
The Blues travel to Anaheim for a game Wednesday. They stay out west and play San Jose and Los Angeles before flying east to Buffalo and then Chicago. They only have three more home games during the month of November.
So after 10 games, who do you think is playing well? Who is showing the effort? Who isn't? Let me know in the comments.