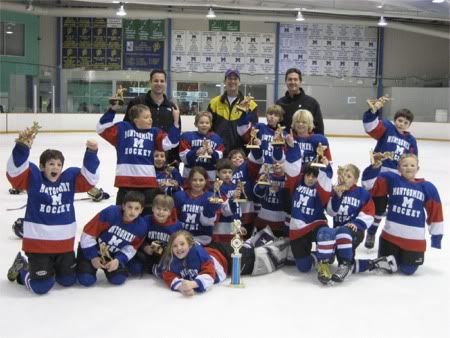 By Brad Lee
First of all, if you are reading this, welcome to the live blog. It also means you're not at the hockey game. So if you'd like a complimentary copy of tonight's Game Time paper, e-mail me at gtbradlee@gmail.com and I'll hook you up. You'll get addicted. And remember, subscriptions are available at a cheap price electronically.
It's Ducks, it's Blues, it's new jerseys. Come back for the live blog.
By the way, I'll have the approve comments window open. So if you haven't joined the fun and games, feel free. We don't bite. Sober.
Jimmy the Cat Hayes is sporting the new sweater while interviewing some fans. "I had a little bit of a fashion dilemma. I didn't know if I should tie the strings or not. So I decided to let them hang. It works." Indeed.
Introducing all the versions of the Blues jersey, the skipped the late 80s, early 90s, my favorite. And Oshie is healthy enough to walk out but not play? Bullshit, man.
19:57 BJ goes at it from the start! With Moen they dance at center ice. Crombeen witha few nice shots. Now he's hanging on. Interesting start. What's with Friday nights and all the fighting?

Lodnod
Wow forced to come up with a BJ joke already!
If you look at your Game Time for tonight, we now have the Big Johnson Joke of the Game, the Roman Polak Joke of the Game and the BJ Crombeen Joke of the Game.
19:40 McClement almost broke the seal on the season with a wraparound. Hooking call, Blues on the power play. Love Friday games.
18:29 Brewer with a blocked shot from the point. Shocking. In Rutherford's Morning Skate Blog, he mentioned that Murray had the defensemen taking 1/2 shots from the point in practice. Wonder why?
17:09 Federko missed the first three minutes. I thought the broadcast was a little better tonight.
TWO FIGHTS? Winchester and Montador and Janssen and May. Holy crap. FSN, go to split screen. Janssen drops May like a bad fucking habit. Holy shit.
May turtled like my prom date in high school.
15:30 What a dumb rule that you can't have two fights at once. NHL is a pussy league.
14:20 The old 4-3 power play for the Blues for under a minute. I go to the fridge to ice some beers and the Blues get another power play.
12:46 BACKES PUTS THE REBOUND IN! Power play goal. Blues lead 1-0. That dude needs to get going.
12:15 Blues are absolutely flying around right now. They have to keep this momentum.
9:55 Blues still putting the pressure on. I think they like the new jerseys.
Now Winchester and Montador going at it again. Lots of spinning. Winchester knocked his helmet off. Not many punches landing. Mutual takedown.
What's up with the Blues? Do they think they're playing the Blackhawks or something? (yes, that was for you, Rask)
7:00 "It's not good news when you're losing stars in this league," Federko said. Really. Because it's a good thing in the NFL.
6:40 McClement going to the box for prostitution.
5:50 Lucky clear for the Blues. Then Pronger fanned.
3:54 Blues still buzzing...like the drunk people who just showed up at my house. So that's why the posting has slowed down.
2:22 Another Ducks power play.
END OF PERIOD
Blues lead 1-0. I'll let you know in the comments when the next period thread is up.