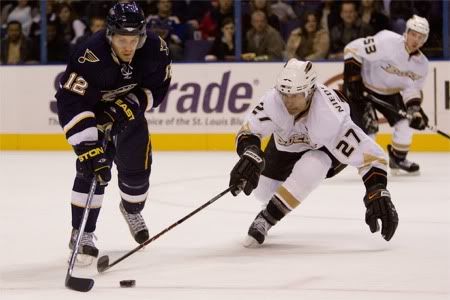 By Chris Gift
Various media outlets, including tsn.ca, are reporting that the Blues have traded Lee Stempniak to Toronto in exchange for Carlo Colaiacovo and Alex Steen.
In his last home game with the Blues Friday night, he scored the game winner in overtime. In the 2006-07 season, Stempniak showed potential scoring 27 goals and 52 points. Last year he came back to earth and netted only 13. Hampered by a knee injury early, Stempniak has been hot of late scoring 13 points in 14 games played. This may be a case of the Blues selling high on a guy they believe to be a streaky contributor at best.
Undersized and not the fastest skater, Stempniak has always had a nose for the net. He plays the point on the power play fairly well and likes getting the puck in the high slot. What he will most be remembered for in St. Louis is being the first face of the franchise's rebuidling effort along with Jay McClement. That's probably why you see so many No. 12 sweaters around the Drinkscotch Center. That and he's scrappy. St. Louis loves scrappy.
Colaiacovo is a former first round pick in the 2001 draft. He's played in 111 games over the course of six NHL seasons only playing in more than 28 games in a season once. Steen was a first round pick in the 2002 draft and is a regular with Toronto. He's averaged about 16 goals a season his first three full years in the league.
Salaries. According to NHL Numbers, Stempniak makes $2.5 million this year, $3.5 million next and will then be an unrestricted free agent. Colaiacovo is making $1.4 million this year and next before he becomes unrestricted. Steen is making $1.7 million this year and next before he's a restricted free agent.
So if you add it up, the players coming to St. Louis cost more this year but are cheaper next year than Stempniak by about $300,000.
Other sites list Stempniak as making $2.5 million this year and next. So we'll have to sort that out.
More details to follow.