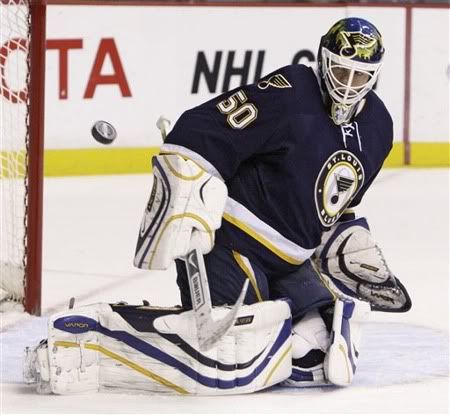 By Brad Lee
There is a adecent chance Chris Mason wants to win this game. A lot. We enter the third period scoreless. Shots are 27-13 Nashville. Blues have 10 minutes shorthanded compared to six for the Preds. Blues have won a few more faceoffs and lead 18-14.
It's a close game. Could get pretty intense as we make our way through the third period. Strap in and let's get it on.
19:48 Blues back at even strength.
19:32 Brewer drew a penalty. But then he whined about it. Baby.
18:34 Is it a bad sign that Stempniak has more points tonight than the entire Blues lineup combined?
Yeah. I didn't think so.
17:00 Woywicka. Sounds like My Friend Flicka.
15:34 Man. Offense is a four-letter word tonight.
According to the ESPN shot chart, there has been one this period, by Nashville. It was taken from behind the blue line.
14:57 Bonk gets blanked on the wraparound. Two shots this period.
14:19 LOVE the Blood Line.
13:12 I just figured out the Blues' offensive gameplan. Skate around awkwardly. Get the puck in deep. Cause mass confusion by guys skating in weird directions and in an uncoordinated fashion. Score.
Brilliant.
12:42 "Building hockey in nontraditional markets." A nice way to say, "Building hockey in communities where they might not actually want it."
11:44 Thanks for mentioning the Blues haven't won any Cups. Dick.
10:00 Paddock checked himself into the boards. No call. What a ripoff.
8:52 Arnott going for interfering with Big Walt. Um...yeah. Big chance coming here.
Yes, Marcus is in Sweden. Like six hours ahead. And I bet he doesn't get Thursday off for an American holiday either.
7:42 "Woyweeka with a shot." Hm.
6:50 Blues killed their power play. I've seen better offensive skill in the Mighty Mite games during the first intermission.
4:37 I hate Tootoo, but the little shit can skate.
4:13 "Mason says no on Bonk." Sounds like the beginning of a date rape story.
3:33 Still scoreless. Anyone with contacts in the voodoo world, cash in a favor. The Blues need a hex on Ellis.
3:22 "I think you're going to see the Predators be...well, more predatory." Horrible. Just horrible.
3:04 But Mason is spectacular.
2:46 They're talking about breakfast. Fuck you, Outdoor Life Network.
1:59 Boyes hits the side of the post/net on a play that actually looked halfway decent.
1:12 Scrum in front of the Nashville net. Ref blows whistle aearly as the puck was still loose. "I don't think Ellis ever had the puck." It was five feet away, moron. Go do color commentary on a fishing show.
:32 Mason was a sitting duck as the puck just hung in the air and then came down in front. For some reason, I started yelling, "NO! NO! NO! NO!" fast enough that I think I hyperventilated a little.
:12 McClement, Statsny and Crombeen are out for the faceoff with half a minute left in regulation. Now that's offensive.
END OF REGULATION
We're still tied 0-0. The excitement in the air there at Sommet Center, you could cut it with a heavy duty weed wacker.

bzgea2
i dont understand how overtime can be sponsered by a city.
The shootout is sponsored by Reno.
Ok, not really.
4:38 Erat and the boys can't finish them off with a decent-looking, but poorly executed play.
4:17 Erat is down. There's Euro grease all over the ice.
And just to help the Blues, Jackman is going off for tripping. Well that's lovely.
3:55 "They try to isolate Weber." He must have the rabies.
3:42 POST.
3:20 Mason wants this game. He's flying around.
2:55 Holy crap this sucks. Shooting gallery out there.
2:34 CLEAR THE PUCK!
2:12 ANOTHER POST. Power play over.
1:45 Tkachuk stole the puck from Jackman. Woyweeka stopped.
TKACHUK...TO POLAK...BLOCKED.
1:17 Mason says no. But his body says yes.
:35 David Pair-on. Interesting.
:15 Mason was leaning on the crossbar like this shit is easy. He's willing this team forward.
Backes tries severing some tendons on Ellis with his skates, sliding in feet first.
Action is so fast and furious, I'm not sure anyone is reading this.
END OF OVERTIME
Well the shootout lineup will be interesting.
My prediction: Perron, Boyes, Tkachuk
Any guesses?
And if this thing goes 10 rounds, you might see Janssen. I can't wait.
"Don't forget, Sports Soup will follow." Yeah.
Blues shot 1, Perron: Couple moves, waits long time, SCORE. Blues lead 1-0.
Preds shot 1, Peverly?: Couple moves...STONED. Blues 1-0
Blues shot 2, Boyes: Double move, easy GOAL! 2-0 St. Louis.
Preds shot 2 Koistinen: One move. SAVE!!!!!!
Way to go Chris Mason! ALL HIM. ALL HIM!

Nancy's Boy
I fuckin love these sweaters.
So do the Blues. They're 2-0 wearing them and 3-0 since wearing them for the first time. Holy crap, its' a three-game win streak. Offense? They don't need no stinking offense!
That was a career game for Mason. He willed the team to that win. Very impressive.
Well Blues fans, it was kind of a weird game with no offense but a fantastic finish in the skills competition. Thanks for hanging with us. We'll see you tomorrow night, probably with just an open thread unless we get ambitious.
See you later, skaters.