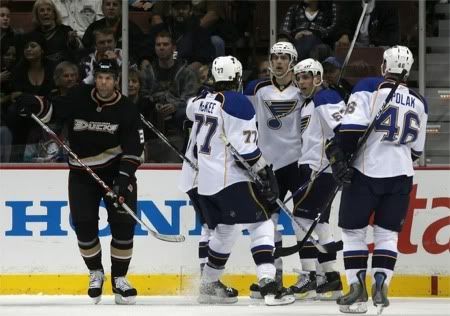 By Brad Lee
Ducks leading 4-2. Anyone smell a comeback?
And thanks Dooks for giving the inspiration to the Bob Richards comment in the second period thread.
18:30 Kelly and Federko sound defeated already.
17:55 Hey kids, give Raskolnikov shit about being a Blackhawk fan...living in St. Louis. Poor bastard.
17:05 Hiller made the save on Perron. Made it look like he was trying to juggle for a second.
Hey Rask, e-mail me if you're interested in writing something for Game Time the paper or the site. Sean had an idea for the next Hawks game.
15:15 Hey the Stempniak line is having trouble moving the puck. Shocking.
14:24 Pietrangelo pinches in, skates behind the net then instead of trying the wraparound...he passes out to Jackman for a weak shot. Sweet.
13:00 Blues 1-7-2 in last 10 in Anaheim. So they're due, right?
12:01 Palm trees planted outside a hockey arena just looks wrong.

Dooks
perhaps it's time to deny any new commenters with names that it's obvious it isn't them
It could be Ken Wilson. It's not, but it could be. Now you might have a point on Bob Richards, but you thought that was funny.
NO:CLOCK Tkachuk on the breakaway. TAKEN DOWN. No call. Horseshit.
NO:CLOCK (Thanks for at least putting the score and period back up) Get the fucking football preview off my screen, FSN. Look, you're not broadcasting in HD so the game looks like I'm watching it through a fish tank. Fine. But then don't put shit on the screen during play.
10:07 Blues on the power play.
NO:CLOCK I will assert that the play of Kariya on the power play made it what it has been this season. Noticeable difference without him on the ice.
3:37 The Stempniak line drew a penalty. Little Dutchie was working hard with the puck before the call.
And with no game clock visible except when going to commercial and the announcers never mentioning the time left, the game freaking flies by.
NO:CLOCK With as much crap as Kariya has taken over the last year, him not being out there is glaring.
NO:CLOCK Blues pull Mason. No idea how much time is left.
Oh, 1:45 Kelly said.
Getzlaf with the loooooooong empty-netter. 5-2. And it's all over the but the crying.