By Brad Lee
Who knew Paul Kariya was the key to the Blues being a potent offensive team?
His absence on the ice more than half the game was glaring in a 5-2 loss at Anaheim Wednesday night. He suffered an undisclosed lower body injury after the Blues tied the game 2-2 on another power play for the No. 1 unit that features five forwards on the ice. That goal happened a little more than four minutes into the second period and Kariya wasn't seen on the ice after the goal. And it showed with the Blues being held scoreless the rest of the game.
On subsequent power plays, the performance of Eric Brewer and Barret Jackman on the point was definitely a step down. Yes, Jackman was on the power play. It was that bad.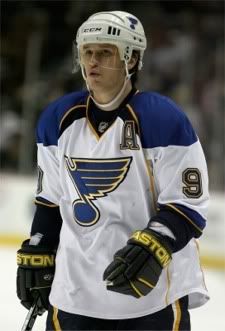 Unlike the other four losses in six games for St. Louis, the Blues played hard much of this game. They did have a hard time controlling the best line for the Ducks. Ryan Getzlaf scored two goals and an assist, Corey Perry had a goal and an assist and Chris Kunitz had two assists. For the non math majors, that's seven points scored by one line. In other words, the Blues ran into a buzz saw. The Ducks are 8-01 in their last nine games. Getzlaf's three points pulls him into a tie with Evgeni Malkin for the league lead in scoring.
The Blues were resilient early. After Rob Niedermayer scored in the first minute of the game, Patrik Berglund netted the third of his career less than three minutes later. When Teemu Selanne scored about two minutes into the second, Andy McDonald scored on his old team less than a minute later. And then Kariya left and it was all downhill from there. Lines were juggled, the power play was patched as best they could and the Blues couldn't keep the score close.
After the game, Andy Murray spoke to Jim Hayes with FSN. He talked about his team registering 32 shots on net.
"We had a good compete level. We had good energy tonight. We made some mistakes defensively in our zone that we have to clean up," Murray said. "Sometimes a game like this where you have energy, you compete and you don't get the result you want because you make some individual mistakes, it's kind of a turning point. And that's what we talked about."
Defenseman Jay McKee said the Blues were more focused on what they need to do to win.
"We're back to the drawing board. We know what we can accomplish in our dressing room. I think we got away from our game for a couple games," McKee told Hayes on FSN. "Tonight was a little bit different story. We worked harder than we had in previous games. We got back to the basics and fired a lot of shots. We made some mistakes that cost us.
"We've really got to put some wins together in a hurry."
You're not kidding, Fragile Jay. After a 4-1-0 start, the Blues stand at 5-6-0. That kind of pace will land a team a good draft pick instead of a ticket to the playoffs. The Blues have a chance to redeem themselves tonight in San Jose with back-to-back games. No big deal. The Sharks have the most wins and most points in the entire NHL.
"We're going into San Jose tomorrow night playing a team that has yet to lose at home," Murray said with a wry smile. "As we talked about, why can't we be the first team?"
Bartender, cut that man off!