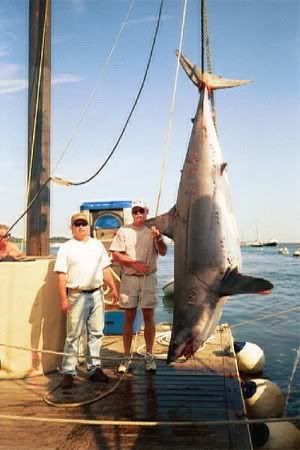 By Brad Lee
Holy crap, I don't live blog for a period and the Blues lead the Sharks 2-1? WTF?
We'll get rolling shortly, as soon as they get done with this damn "Name That Blue" crap. Ugh.
Thanks to Game Time's version of Butters for babysitting the blog during the first. If they start losing, don't blame me.

Tim
Looks like we're going to need a bigger boat.
Nice reference.
19:48 Brewer is already in the box. Sweet. We'll test the "Brad Is A Jinx" theory very quickly.
"They want him to be the next Tomas Holmstrom," Kelly said. Poor bastard.
16:35 Polak hit in the ankle with the puck. Limped off.
On the Bernie Miklasz show this afternoon, John Davidson talked about the number of injuries the Blues have seen already. He said it's close to a player a game. So somebody was going down. Fate just checked that box off.
15:13 Do you think when opposing forwards go to the net, they have second thoughts when they see the size of Bishop?
14:43 Jackman in the box for hooking. How can you hook if you don't have a stick? Or a pimp.
14:30 Dan Hinote nearly put the puck in the San Jose net. Shockingly, he missed. But his wife is hot.
13:31 Puck trickling toward the goal. A sprawled Bishop reached back and stopped it just short of the net. Wow. And as the announcers mentioned, thank God for long arms.
Please no one define "butt puckerer." I'd like to live in ignorance.
12:53 Blake shoots and scores. The score is 2-2. Blake is older than John McCain.
Welcome commenter djm448 with our unofficial motto.
11:30 I hate the little numbers on the front shoulder of the Sharks' sweaters. Who the hell is going to see those things from the stands? People with telescopes, that's who.
I wish I went trick or treating with Adam Goldberg and his kid. You had to be watching the FSN to get that one.
9:57 I hate to pile on and I can't prove it because of shitty camera angles/quick cuts, but I think Brewer just skated in offsides. Now I may not know all the subtle nuances of a hockey game, but I think a defenseman being offsides on the rush is pretty fucking stupid.
They're showing Blake's numbers the last few years. Who plays a 38-year-old defenseman 22+ minutes a game? You want him to have a heart attack on the ice?
9:20 So Taguchi fanned on the puck in front. Cardinals fans are not surprised.
8:31 Blues back on the power play. Cheechoo in the box for having a name that sounds too much like Tootoo. "Not what you would call a very blatant call, John. But nonetheless, a hooking call." Federko. Uses. Too. Many. Words.
Public Service Announcement.
This is a hockey blog. We're talking/bullshitting about the game. If you want to talk about other things, please consider taking it elsewhere. One comment, I think you can guess which one, is a little too far in left field even for us. We don't like pissing matches around here. Please knock it off.
-- The Management
5:50 Blues back on the power play. Kelly is talking about the Blues not having shots or something. That's insane.
5:28 Blues take a penalty. Marleau was handling the puck in the St. Louis zone. Boyes got frustrated.
4:30 Federko. Stop talking about kids on trampolines at Swift Current. We don't care.
3:38 One shot. That's it, one goddamned shot?
You can't say that on the air.
Don't worry. No one's listening anyway.
2:16 A two on one with McDonald and I think Boyes. Thwarted. End to end action at the end of the period. Still tied 2-2.
:54 There's a faceoff. I'm tired. Need more Mountain Dew. If nothing else happens, consider this the end of the period and we'll have the third period post up before they drop the puck.