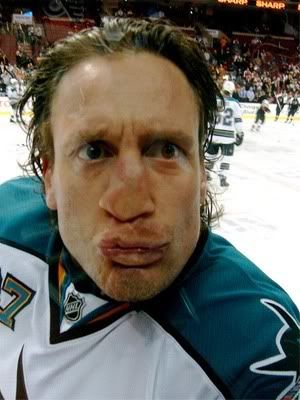 By Brad Lee
Remember when Jeremy Roenick was good? Commenter Poor College Student was known as Sixth Grader With A Healthy Allowance.
19:05 Michaleck gets two minutes for a hard to pronounce name. Blues dangerous early on the power play.
19:36 Nabokov laid on the puck. Hard to see where the puck was. Kelly thinks it should count because some Blues players celebrated. Sounds good to me.
17:00 Remember when Mike Grier was going to be a good player? It was so long ago, Chris Gift and Chris D were still friends.
16:20 Perron is actually playing pretty well with the dump and chase. That's surprising. You'd think he'd be allergic to that style of play.
15:30 Bishop gets in the way of Clowe. He just couldn't get the puck through the big fella.
15:14 I'm not saying Joe Thornton isn't a good player. He is. But just think if he was determined to be a 30-goal scorer. He's always thinking pass, but with his size you'd expect him to score more.
13:40 Stempniak with some new-found verve carrying the puck in deep in traffic. "Obviously an injury has cropped up," Kelly said about a bleeding Clowe. I guess that's one way to say it.
"Cut me, Mick. Cut me."
Any new commenters wanting to join the shenanigans? Jump in. You'll be approved shortly.
"It didn't warrant a penalty at all. Put some tape on it and he'll be fine until the end of the game," Federko said. Easy for you to say, Mr. Retired and doesn't have to worry about cuts by your eye anymore.

Poor College Student
Join in new commenters! It's a great way to put off writing papers due at 9AM on Friday
What's it on. Maybe we can help? Does it involve the prevalance of Fruit Euros in North American athletics?
12:04 MCDONALD ON THE WRAPAROUND!!! Very pretty. Blues lead 3-2 at the best team in the league that is still undefeated.
The key wasa the hesitation after coming around the net. It bought him some space and forced Nabby to go down early.
Holy crap.
I'm lovin' it indeed.
10:57 Huge rebound. Like 6'7" rebound right to Clowe who buries the puck. Bishop was out playing the shot aggressively. The puck bounced off his left pad directly to Clowe.Now 3-3 with about half the final period to play.
10:10 Big shot by Jackman. Blues still dangerous. The Blues did not let that third goal get them down initially. We'll see how resilient this team is.
9:22 Amazing game. Shot hits the crossbar. Blues buzzing. Loose puck. Backes gives the Blues the lead again. They're just having fun out there now. 4-3 Blues.
He actually tried to deflect it, knocked the puck in the air and then batted it in.
8:44 End to end action still. Too bad literally dozens of fans are still awake at 11:44 p.m CST.
7:45 Polak does not look hampered with the ankle, beating Clowe to the puck and then stickhandling neatly.

Raskolnikov
Apolly wollogies if this has been said multiple times, but I'm a little verklempt. I'll give you a topic. Roman Polak is neither Roman nor Polish. Discuss.
Nice.
7:02 Berglund and Backes are still trying to score. Is Andy Murray feeling ok? Putting young guys out there late, not having them chained in their own end. He probably needs a nap.
6:12 Blues forecheckers really slowing the Sharks' advances up ice.
Any suggestions for a Ben Bishop painted goalie mask? The Big Ben clock in London is a given. Personally I'm hoping for a Ben Franklin flying a kite in a lightning storm.
And yes, I know this has been discussed and I believe the Dooks said something about chess pieces. But he's probably sleeping or something so that idea is no good at 11:51 p.m.
5:21 Dan Hinote in all alone. Uh, yeah. I knew that wasn't going to happen.
Now Hinote is going to the box. Hey ref, he already felt stupid for not getting a shot. You don't have to rub it in. That's cruel.
And they even it up off the faceoff. Thank you Mr. Zebra.
5:13 Everytime I refresh the blog input box thing, I see a big smooshed Jeremy Roenick on my screen. It's a little disconcerting. Blues still leading.
5:01 You have got to be fucking kidding me. Another penalty. What, you got quotas to fill, refs? What is this, Rock Hill on Manchester Road?
4:48Sharks swarming on the 4-3. Lots of space to work the puck. But Bishop still is huge in net, so it's almost even.
McKee has to take the faceoff. Funny. Dude is scared of the puck.
4:12 BREWER! Clear the puck!
MCCLEMENT! Clear the puck!
3:37 Finally a clear...and then an odd-man rush. I have chest pains.
SHARKS PENALTY as one Blues penalty ends. Fucking quoatas.
"Blues deserved some breaks the way they've been working," Federko tries to defend the call. Horseshit. Let them play. Let them play. Let them play.
2:54 Blues have a 5-4 power play for a little while.
FUCKING QUOATAS!!!!!!!!!! And now they're profiling Polaks. Fuck you refs. Seriously, fuck you. It's a race to raise their hands. It's a competition.
2:27 It's 4 on 4 for anotehr minute.
1:45 Boyes just turned the puck over twice...leading to a goala by Clowe. FUCK. That's a guy trying to do too much in the neutral zone and at his own blue line.
Well that's frustrating. Tied game, 4-4.
1:09 McClement almost got something going.
Sharks dangerous. Hard to type and watch. BIG CLEAR asa the Sharks had a brief power play.
:40 Even strength.
:26 HUGE save by Bishop in front in the waning moments. One point is a must. Blues deserve two.
END OF REGULATION
This game shouldn't have gone to overtime. The referees were all over the place late. I don't remember seeing such frantic, racing to make the call referees. Unbelievable.
Overtime afater these messages from Mountain Dew and Jolt Cola.
We'll keep the post here for overtime and whatever happens.
Buckle in.
4:45 Sharks have the team speed to be lethal on the four on four.
4:15 Why is Jay McKee on the ice?
3:40 Have to get shots on net. Wide shots lead to transition for the other team almost every time with the extra space.
2:54 Berglund is pesky on the fore check. McDonald wants to win this thing. Can't. Yet.
2:10 McClement and Backes out there together. Oh they miss Kariya.
Anyone want to see Perron out there right now?
Berglund and Stempniak were the forwards last play. Interesting. Has Tkachuk been out there in extra time?
1:25 He's out there now.
1:00 Berglund with the nice shot. Nabby almost gave up a decent rebound.
:30 ANOTHER Boyes turnover in the neutral zone. He's passing like McKee.
END OF OVERTIME
McDonald is possess, man. Get that guy out there in the shootout. With no Kariya or Oshie, the lineup could be interesting. My guess right now: McDonald, Berglund, Boyes.

Poor College Student
PCS's lineup
McDonald
Boyes
Perron
Perron is interesting. But Murray didn't trust him to put him out there in OT.
They do practice the shootout almost every day at practice.
Sharks Shot 1, Pavelski: Not much of a deke, big wrist shot. SAVE Bishop. NO GOAL
Blues Shot 1, McDonald: Goes backhand, SCORES!
Sharks Shot 2, Roenick: Again, not much of a deke, goes shot, SAVE Bishop.
Blues Shot 2, Boyes: Backhander, Nabby slid over nicely.
Sharks Shot 3, Boyle: He deked left, skated right, got Bishop to go down. SCORES.
Blues Shot 3, Perron: Lots of dekes. No goal. Nabby sprawled big time.
Sharks SHot 4, Clowe: Goes left, little deke, SCORES. Went stick side.
BLUES shot 4, Berglund: No goal. Damn. Fuck. Shit. Nabokov is hurt. Wow. Still made the save.
How did the Blues not win this motherfucker. It's 12:19 a.m.
Federko says it was a big point. Yeah, look at their faces. They don't think that point is shit, man.
I'm tired. I need to write for that other Web site. Later, figure skaters.
THANKS FOR STAYING UP LATE WITH GAME TIME. It's much appreciated.