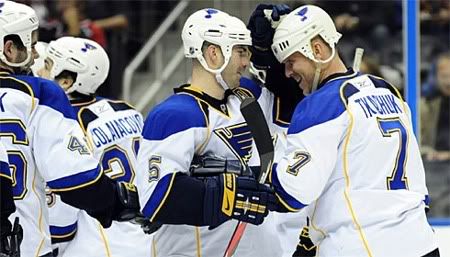 By Brad Lee
Keith Tkachuk became a member of a select club Sunday in the Blues' 4-2 win in Atlanta.
Scoring his 10th goal of the season, he notched his 1,000th career point in the NHL Sunday afternoon. And no one in St. Louis saw it.
Thanks to the oddity of the television schedule, two of the five Blues games not scheduled for local television coverage over the entire season happened in 24 hours with a home game Saturday afternoon against Edmonton and the 4-2 win Sunday at Atlanta. And because the Thrashers suck ass and are an afterthought in their home city, they didn't televise Sunday's game either. So that means no one in St. Louis was able to watch via the Center Ice package or via a Web site streaming the game online. And if you go to the Blues' Web site, Sunday's game is the only game so far this season without video highlights. So take my word for it, the goal happened.
It's surprising that a league like the NHL was actually ahead of the curve when it comes to online content. They were one of the first professional organizations to embrace online video providers such as youtube. They have encouraged their teams to accept bloggers covering their games live from the press box and give them press access to the dressing rooms. It's beyond me how the league could let any game go untelevised and no video highlights are available online. The health of the Atlanta franchise shows in that this third game already this season not televised by either team. This is the only game scheduled all year for St. Louis with absolutely no television coverage.
Tkachuk's goal that hit the career plateau tied the game 2-2 in the second period. It came on the power play and set the Blues up for a big third period where they would take the lead on a Brad Boyes power play goal and then salt it away with an empty-netter from Jay McClement. The Blues scored four goals on 47 shots which is remarkable. Last week they didn't have that many shots over the course of two complete games.
No, Tkachuk has never quite lived up to his big contract and the promise he brought after a late-season trade brought him from Phoenix in 2000-01. He scored more than 30 goals his first three full seasons in St. Louis. He topped 70 points twice. But like his tenure in Winnipeg and Phoenix, Tkachuk has never delivered his team deep in the playoffs. He was criticized for his fitness level after the locked out 2004-05 season. He's taken some dumb penalties over the course of his career.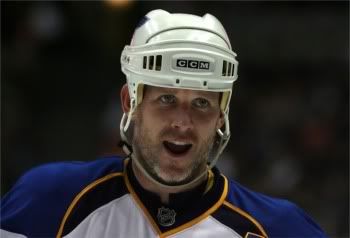 But I think when you get past some of the expectations and the contract, I think Tkachuk is a good hockey player. He understands his place in the community as a professional athlete. He and his family call St. Louis home. When he was traded to Atlanta, his family didn't move. They didn't plan to move if he signed with another team before last season. The Tkachuks are active in the youth hockey scene. He's a friend of a local ham and egg morning radio show. That stuff counts too. And he's still scoring goals and putting the team first. When asked last week on a Versus telecast about his imminent 1,000th point, Tkachuk said he didn't care, he just wants to get the Blues back to the playoffs. During a second intermission after he scored his goal, he did a quick interview with Chris Kerber on KMOX. He started the talk about by telling Kerber that he went out of his way to make the milestone point a big deal for the radio guys.
At the end of the day, Tkachuk scoring his 1,000th point in 1,077 games is outstanding. Only 72 players have achieved that feat in almost 100 years of the NHL. Now the wire services and sports Web sites say Tkachuk is the sixth American-born player to hit the 1,000 point mark in league history. But I think it's seven. In an Associated Press story from Nov. 15, 2002 chronicling Mike Modano's 1,000th point, the list of Americans to that point was Jeremy Roenick, Phil Housley, Joe Mullen and Pat LaFontaine. Add Modano to that list and that's five. But Brian Leetch (born in Corpus Christi, Texas) scored his 1,000th point in the 2005-06 season. Leetch did it with Boston, so most people probably don't remember.
Regardless of the number of members, the club is a small but distinguished group of players. And now it includes Tkachuk.
Congrats Big Walt.