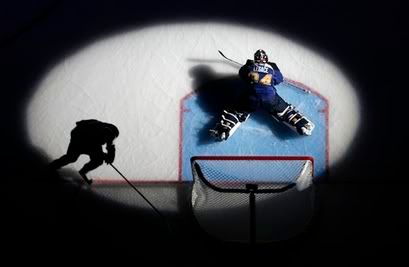 By Brad Lee
Before we get into this issue, come back for either a live blog or open thread tonight. Game time is 7 p.m. CST.
The month of December is going to be a bitch for the St. Louis Blues.
Beginning today, they have seven games in the next 10 days and 15 games overall in just 27 days. Three times the Blues play on consecutive nights. While there will still be half the season's schedule left when the Blues turn their calendars to January, this month will go a long way to keeping them in the playoff hunt or preparing them to dump players come the trade deadline.
While some of the skilled players who went down in recent weeks to injury are getting healthy (hello Patrik Berglund!) and the team is routinely working hard, there's another issue that has emerged that will make the month of December a crapshoot. The Blues have a goalie controversy on their hands.
The spotlight has been on Emmanuel Legace the last three seasons. He played at an All-Star level last year. He's never had a backup who was talented or seasoned enough to challenge him for playing time. That is, until now.
Goaltender Chris Mason, acquired in a trade with Nashville over the summer, got off to a horrible start. His first game of the year, he allowed four goals to the Islanders. And then he promptly went to the injured list with a bad appendix. He would start five games before winning his first contest. Since then he's won three in a row including a dominating 1-0 victory in a shootout over his old team, Nashville, last week. He made 28 saves on 30 shots in the 4-2 win Sunday afternoon in Atlanta. He's hot.
Even with his 3-5-0 record, he's still posted a 2.29 goals-against average and stopped an amazing 92.8 percent of the shots he's faced. Those peripherals say he's had one helluva year.
Meanwhile, Legace hasn't really been the same since he slipped on the carpet laid out for former vice presidential nominee Sarah Palin when she dropped the first puck in a game in late October.
The numbers don't lie. Legace has been below average this season. His 6-5-1 record isn't anything to write home about. And it goes downhill from there. His goals-against is 3.19, 38th best in the NHL. He's stopped 89.1 percent of the shots he's faced, 36th best in the league. Considering there are 30 teams in the league, that's piss poor.
After winning his first four starts, he's gone 2-5-1. He should have another loss, but he only played five minutes after allowing three goals in Buffalo. Mason was able to keep the game close and the Blues tied it up before losing. In the five games since that disappointing outing, he's 2-2-1.
Just from observing the two goaltenders, Mason is playing with a confidence that's overflowing to the players on the ice in front of him. He's slick with nice lateral movement. He has given up his share of rebounds in recent games, but for the most part they've been manageable.
Legace is going the other way. He's been prone to hitting the ice and going down early. That's the classic sign of showing some panic and not being confident he'll make the save upright. His lateral movement appears manic, nearly out of control. In traffic he's had issues with controlling the puck.
Here's what gets interesting. Mason is under contract for next year while Legace is an unrestricted free agent after this season. The Blues have let only a handful of players walk away in the summer, and that's only if they perceive the player to have little value. Otherwise the Blues have signed or traded away their soon-to-be free agents. What should they do with Legace?
What's really interesting is that even if coach Andy Murray makes a move and starts Mason more often, the workload this month with the rash of back-to-back games will keep both busy. So Murray will be forced to play both and could have a reasonable excuse to play Mason more without making it so obvious that Legace's status as the starter is in jeopardy.
The puck drops tonight at 7 p.m. in Minnesota. The Blues won there 2-1 on Nov. 22. Brad Boyes scored two goals in the win. Mason looked sharp. It will be interesting to see who the starter is tonight as well as in back-to-back games Friday and Saturday here in St. Louis.