By Sean Gallagher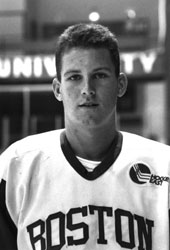 As with many of the home games, most of the GT Staff will be down at the DrinkScotch tonight. Of course, at least one of us is in KC trying not to freeze their nuts off rooting for Mizzou (even Janet is taking the Sooners on that one).
Those of you who are still too hungover from last night's game or too warm to leave your domiciles for the evening will have this little piece of hockey heaven to keep you company: the Game Day Open Thread.
As we've mentioned before, coming home from the game and reading the comments in these game threads is one of our new favorite game day rituals, so do what you do and bring the funny.
Phoenix actually has a better record than the Blues, who have officially slipped into last place in the Western Conference, but for some reason they seem to be a very beatable team for the Note. Manny Legace will certainly get the start tonight, unless he manages to trip and fall on some ceremonial rug set out for Keith Tkachuk's family or something ridiculous.
Speaking of Tkachuk, there will be a pre-game ceremony to celebrate his 1,000th NHL point. Can't wait to see what the other guys got him as a gift, hopefully it's something that'll give us a whole new joke to ride right into the ground.
And while we're talking about milestones, Brad Boyes is on the verge of his 100th NHL goal and his 100th point as a member of the Blues. Let's hope he gets both early on in the contest.
For those of you who like game-day previews, the Blues' one isn't bad, even though the home team plays second fiddle even on their own website. Nice work, everyone.
The Coyotes have some news of their own, too: they've managed to come out with a horrible third jersey! Seriously, shouldn't it go with the rest of the uniform at least a little bit?
OK, that should get you started; feel free to keep working on good nicknames for the new guys (so far, we're partial to CoCo the Monkey Boy for No. 28), have fun and don't burn the place down.