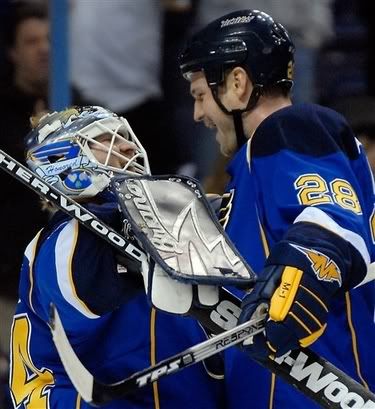 Dear Ma and Pa,
I told you firing all those pucks at the broad side of the barn back home in Beaverlodge would pay off someday. And like the days when I would hit the barn most of the time, I finally scored my first goal in the NHL tonight. And it only took me 153 games! I'm no Wayne Gretzky or even Brent Gretzky, but to me, that ain't too shabby.
I drove my pickup home as fast as I could. I put some Brooks & Dunn on the stereo and sat down to write you an electronic e-mail just like I do every Sunday night. Now that I'm a goal scorer, everything's better! This deer jerkey is saltier, my PBR colder, my flannel shirt and beat up cowboy boots more comfortabler. It's really, really great.
Well tell all the horses and cows and dogs and chickens and sheeps and stuff that I miss them. I'm going to go to bed now, except tonight I'm going to bed with a goal scorer.
We've got a big game on Tuesday against Chicago. That'll be fun to watch from the press box with the team playing better. I hope they have the good chicken wings on the buffet this time. My little buddy Davie Perron who is French (or maybe Swedish, I'm not sure) will probably be back with me watching upstairs. We'll have fun picking up chicks in the concession stand lines during the game. I let the little foreigner fellar do all the talking, but the chicks will totally score with me now because they know I can.
Hopefully you can catch my highlight on the news or the ESPN if they ever show hockey again.
Your goal scorer,
Matty