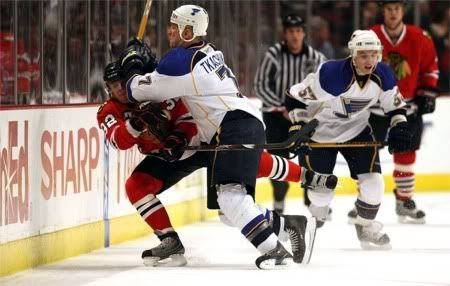 The Hawks are in town tonight. We'll have a You Write the Comedy and an open thread later on. To get your juices flowing for what is surprisingly a big game for both Chicago and St. Louis tonight on the kind of national cable network, we give you a piece Gallagher wrote for Game Time earlier in the season. Since the only way to leave comments in the printed version of GT is to write snarky things in the margins and then pass it around your row at the game, we figured we'd put up the electronic version. Feel free to chime in below.
Growing up outside of Chicago, I was not a Blackhawks fan. I wasn't even a hockey fan. Strangely, it was the Blackhawks' most hated rivals, the Blues, that made me a fan and made me a total devotee to the game of hockey. In fact, it was a Blues/Blackhawks game that made me the no-life-having Blues fanatic that I am today.
Back in late 1992 I attended my first hockey game with the St. Louis girl who would become my wife just three years later. Going into it I was skeptical that I'd be interested - I'd never watched more than about a minute of any hockey game that wasn't played in Lake Placid in 1980. Being from Chicago and, therefore, obnoxious, I thought I might just be a dick and root for Chicago. Little did I know. I was quickly captivated with the atmosphere of the Arena and the rabid Blues fans and the mighty trash talk that was being hurled at the few insane folks who were wearing their Indianhead gear. By the time the game was over, the Blues had won, the Hawks fans had been properly doused and I was addicted to hockey and the Blues.
But when I think back to that first game that I ever saw, I wonder if it wasn't the intense rivalry of the Blues and Blackhawks at that time that didn't make the experience so unforgettable. If my first game had been a Blues/Blackhawks game last year, would I even be mildly interested in hockey? Would I even be interested in coming to another game, especially when this rivalry seems so tepid?
At my first game, the Blues and Blackhawks rivalry was, unbeknownst to us at the time, nearing the end of its golden age. Steve Larmer was in his last season in Chicago. Dirk Graham and Michel Goulet were within one season of hanging up their skates. Jeremy Roenick, Eddie Belfour and Chris Chelios would all be gone within a few years. The Blackhawks fell out of relevance shortly after my fandom was forged in the heat of that rivalry's fire. The Hawks have been some shade of shitty for over 10 years now.
The Blues, to their credit and our enjoyment, stayed at the top of the division for most of those years that the Blackhawks owned the bottom half. Only recently did our team dive down to check out the murky depths where the Blackhawk bodies rotted. It wasn't pleasant for any of us, and honestly, the fire of competition between two equally matched teams doesn't really burn that white hot when they are equally badly matched. Battling to see who isn't going to be in last place isn't nearly as much fun as battling to see who takes the division lead.
Now, with both franchises stocked with fresh new draft picks, and high-end draft picks at that, many people will tell you that the Blues/Blackhawks rivalry is about to begin anew. I'd love to see it, but for the time being, my official status on that is "skeptical." The main reason I have holding me back is that these Blues and Blackhawks are very different from the teams of old (or even the teams of "I remember those guys"). I can't speak to the earliest days of the rivalry, as I'm still a bit of a late arrival to the Blues fanbase at only 15 years, but where is the Chris Chelios that we can all agree to hate? Where is the crazy Eddie Belfour to go ballistic and hammer his stick into splinters? Where is the giant mouth wearing No. 27 that answers to the nickname J.R.? Instead, the Blackhawks and their talented crop of new-NHL talents are all skill and slick playmaking. Hell, half the people I know coming to the game tonight can't wait to see Jonathan Toews and Patrick Kane. How is that a rivalry?
Speaking of Toews, he is best buddies with Blues top prospect T.J. Oshie. Oshie should be playing in this building next year and lining up against his college linemate Toews several times. Is there going to be any animosity there? Any sense of dislike? Any rivalry that isn't described as "friendly?" I say no way. And when the top players on the two teams don't hate each other, it's going to be tough to build a nasty rivalry like the one that made me an instant fan. Instead, I think that the Blues and Blackhawks are headed towards a competitive next decade with lots of great games to be played. It should be exciting, but I don't believe for a second that it'll ever be the same.
-Sean "but I still hate the Red Wings" Gallagher