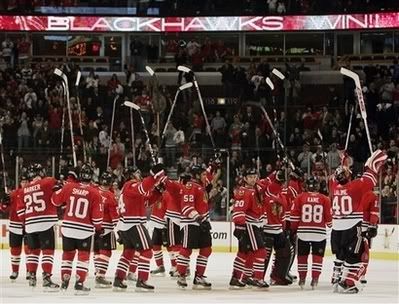 By Brad Lee
It's now less than three hours before Game Time, and we're getting a little pumped about this thing. It's been since before the lockout when the Blues and Hawks had something on the line when the teams faced off. They're expecting a sellout tonight. The game is on "national" TV (as national as the Versus network gets when not showing deer hunting shows). And both teams are fighting for their playoff lives one week before the trade deadline. No pressure boy(e)s. No pressure.
One of our favorite reads on game days is Jeremy Rutherford's Morning Skate blog. Here are a few highlights from today.
The Blues having four games left before the deadline:

If the Blues go 4-0 in those games, they probably won't be trading their top two unrestricted free agents, Barret Jackman and Bryce Salvador. If the Blues go 0-4, they could trade one or both (although both is unlikely). But what if the Blues go 2-2 or 2-1-1...what will the Blues do with Jackman and Salvador if they haven't reached an agreement on new contracts?
On the lineup for tonight:
This morning, Blues coach Andy Murray was as mum about his lineup as he's been all season. This much we know: Bryce Salvador and Dan Hinote are available to play. Salvador said yesterday that he's ready to play. If he's in the lineup, there's a chance that Jeff Woywitka could be out. Matt Walker appears to be in.
Another reason that Emmanuel Legace is awesome:
By the way, has anyone noticed that Manny Legace has grabbed a puck after each Blues' victory this season? Legace has one Blues player sign each victory puck and then he has it sent to Wendy Pleau, the wife of GM Larry Pleau who continues her fight against cancer. Walker signed Sunday's game-winning puck.
Legace is in net vs. Lalime. Rutherford believes the 12th forward spot will come down to Perron, Hinote and King.
We're trying to make it down for the game tonight, by hook or by crook. Fill up the comments during the game and come back for the disection after. Just remember, Hawks still suck and LET'S GO BLUES!