By Marcus Pettersson
After last night's sweet victory, why not celebrate by making fun of someone? Cool? Who better to ridicule than The Great One himself, the one they call Wayne Gretzky. And just for the heck of it (and because the pics are soooo incredibly great!) why not throw in two pics today? Twice the fun!
What does Wayne say to the 'Yotes assistant coach Ulf Samuelsson? Why is the team doctor trying to get 99's attention? Does he need help pronouncing Radim Vrbata's name... again?
This next one's scary. Looks just like my old grandmother used to when she found me with my hand in the toilet, kitty litter, cookie jar! And, most importantly, who's the girl in the background and how do I get in touch with her?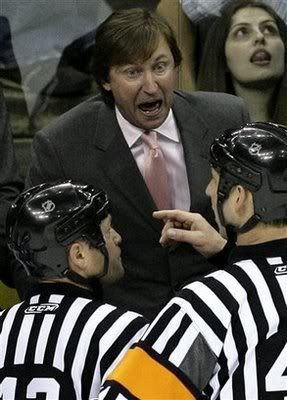 Your fun stuff in the comments.