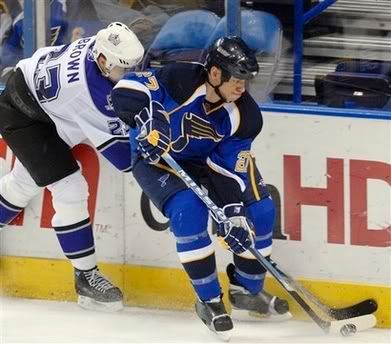 By Brad Lee
The Blues skate at 9:30 p.m. St. Louis time at the Staples Center in Los Angeles. They're visiting the shitty but still dangerous and almost resurgent but still utterly hopeless Kings. It's a good thing this game is in L.A. Getting down to the DrinkScotch Center would have been a freaking nightmare tonight.
The Kings are still the worst team in the NHL with 53 points despite going 5-5-0 in their last 10. The Blues beat them just over a week ago in St. Louis. West Coast trips are always unpredictable and it's hard to tell what this team is going to do coming off a thrilling win and then playing a subpar opponent.
We'll come back with excerpts from the Morning Skate blog when they're posted. Meanwhile, make a few predictions, bitch about the weather or just mingle amongst yourselves. We'll be back with a new and different thread (NOT THIS ONE) for the live blog tonight at game time here at Game Time.