By Brad Lee
First question: Will David Perron play tonight?
First answer: No.
Second question: Will Emmanuel Legace II start in net.
Second answer: Yes.
Third question: Will the Blues kick the Kings' ass?
Third answer: God, we hope so.
For all these road games coming up, we'll have our mood heading into game time...here on Game Time. Feel free to share yours in the comments.
Tonight's mood: A happy, expectant hunter in position ready to send the unsuspecting prey to its maker.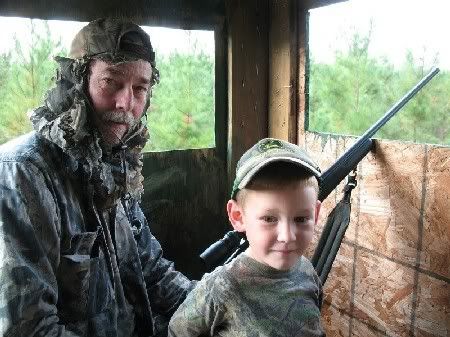 19:23 Granted, they got a shot on goal the first minute, anybody besides me think it's fucking crazy to see Ryan Johnson on a line with Backes and Tkachuk? But Chris D has made the point that Tkachuk has been fresher skating less on the wing.
17:45 Jeff Woywitka got screwed. Unless he's pulling major tail in Peoria (and it would be Peoria tail), he's gotta be pissed. He played well enough to stay in St. Louis.
16:25 One thing we wrote about after the win on Tuesday was the importance of Backes playing physical. That's definiteley something to watch early.
14:29 While it's important to know what's going on in othere games, doesn't it feel a little jinxy to have the announcers actively scoreboard watching? They need to be breaking down how good Brewer is compared to popular opinion or how Jackman's +/- isn't as bad as it looks (it's worse).
By the way, any new commenters out there, you just have to be approved once and you'll be remembered by the system. We'll be vigilant making sure new folks are approved quickly.
13:23 "And Boyes is robbed by Cloutier!," Kelly said. The last time that sentence was uttered, Cloutier was robbing kids on a playground, probably of their milk money.
By the way, Nashville just blew a power play in OT. They are 3.6 seconds from shootout.
10:25 Cloutier sucks. He can't hold this up forever. There's a reason he went more than a year between NHL wins.
Shootout in Nashville.
9:42 Jay McClement is not good shooting the puck. He just attempted a shot and missed the puck entirely.
I'm going to highjack the blog for a minute for the shootout.
Radulov shooting first: (man he's a douche bag) shitty fake, Luongo gloved the backhand.
Raymond: Dekes, backhand, goes into the net over a sprawled Chris Mason. Can't believe we're rooting for Nashville right now.
Dumont: shooting the whole way, about 10 feet wide. Prick.
Shannon: horrible move, got too deep, didn't get a shot away really.
Legwand put his shot into the poke check of Luongo and Vancouver gets the win.
End of highjack.
6:36 Still no score in L.A.
The thing about the Blues making a playoff push, the points gap isn't quite as important as how many teams are in between St. Louis and the eighth spot. Getting a win tonight bumps them up the standings even if they aren't closer to eighth points-wise.
No pressure, boy(e)s.
Blues Johnson jokes of the game:
Hey Kings, our Johnson is so big, he's bi-coastal.
Our Johnson is so big, he's playing this game from Huntington Beach.
Our Johson is so big, Barack Obama is thinking naming him as his running mate.
5:25 Need a spark here at the end of the first period.
4:20 The Stastny, McClement, Mayers line is creating some pressure. Good to see Yan making some contributions.
1:59 Said it before, will say it again: The Boyes, Kariya, McDonald line is fun to watch in the offensive zone, but they have trouble clearing the puck and going end to end.

Gift Says:
February 21st, 2008 at 10:06 pm e
Johnsons:
Paris Hilton is visiting the mall in South County just to see it.
Get your STD shots now, she's going to be at Ameristar this weekend.
And that's the end of the first period. As Chris D said, domination by the Blues. Not many chances at all for the Kings.
"Only Cloutier was the difference in the game," Kelly said. That's usually a bad sign for the Kings.
We'll let you know in the comments when the second period thread ready. Thanks for staying up with Game Time. We appreciate your business, even though we make absolutely no money off the site. We're like the First National Bank of Change. We only make change. "But how do you make any money?" "Volume."
No score. The Blues CANNOT let the Kings hang around in this game until crunch time. That's how last place teams pick up wins.