By Sean Gallagher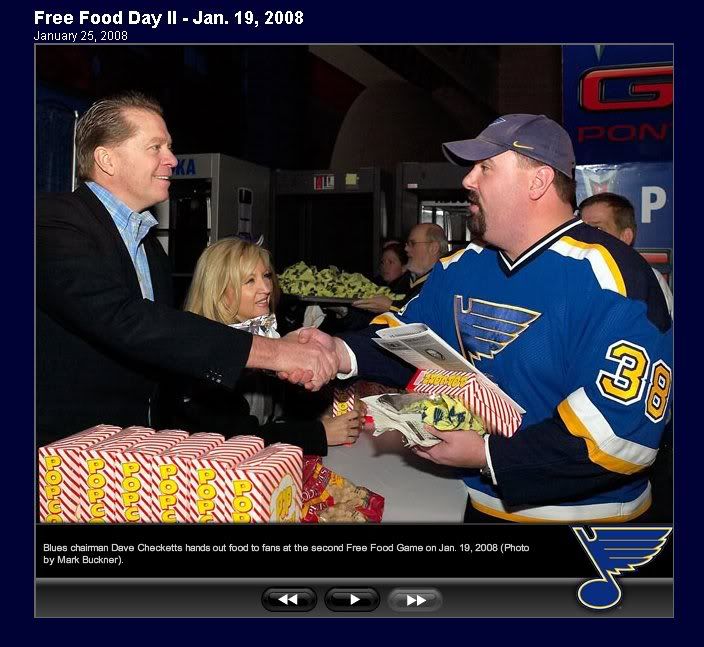 Just like Dave Checketts congratulating this fine young man on his decision to purchase a copy of "St. Louis Game Time" to go along with his ticket to watch a St. Louis Blues hockey game, it's with great pleasure that I announce to all of our faithful online readers that your favorite live blogger, snarky commenter and smartassy poster, Brad Lee, is the new Online Editor for this site.
Brad has been an MVP for us ever since he started writing for our little rag back in 2005. Who knew that his article about his least favorite Blue and his hatred for the Cotton Eyed Joe Guy would turn into the indentured servitude he now finds himself in?
Front page writer for the paper, Top 11 Factory, one half of the "Remember Me?" remembering department and now, King of the GT Website, Brad Lee can do it all.
As readers, you will probably not notice much of a difference beyond maybe more of a mix among all of our writers, but it won't be long before his email will be plastered all over the site for you to contact him with your rants, raves, suggestions and complaints.
Feel free to congratulate Brad in the comments and at the soon-to-be-announced Game Time Get Together (TM) where everyone will be invited to come and revel in all things wiseass and beer-soaked.