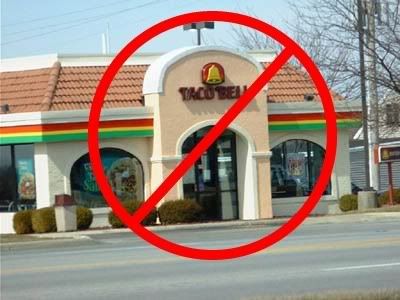 By Brad Lee
On a cold, snowy, sleety day, I always enjoy putting my feet up by the fire and opening up my The Tennessean newspaper. I love the ads for all the different things you can buy covered in sequins.
But as I was digging into the metro section to look at all the brother-sister weddings, I found this disturbing story: Preds are now good for business. Obviously I had to read more.
When the Predators scored for the fourth time during Tuesday's victory over Edmonton, it prompted a familiar chant from Sommet Center fans anxious for one more goal:
"We want ta-cos! We want ta-cos!''
Those unoriginal bastards.
The Taco Bell promotion, which gives fans a free taco if the Predators score at least five goals, has been a very popular and prominent part of Nashville's home games over the years.
Thirty-five-cent tacos was better than one free one. At least we had that going for us, until those rat bastards cancelled the promotion.
But it was missing for the first half of this season.
Taco Bell management, dissatisfied with the way it had been treated under the franchise's previous ownership, cut ties last summer.
That sounds amazingly familiar...
Its comeback a few weeks ago is one of the latest indications the new ownership group is meeting with success in the local business community, which has long been a challenge for the franchise.
Wait, what? THE PREDATORS GOT THEIR TACO BELL TACO PROMOTION BACK AND WE BLUES FANS DIDN'T???!!! Well spank me on the ass and call me Sally.
Seriously, that just pisses me off. The taco promotion was a truly great thing that got non-hockey fans interested in how the Blues did each and every game because a five-gaol performance meant a really cheap but tasty lunch.
We will give Dave Checketts and Co. credit that they at least tried to placate fans with the bogus taco promotion that involves bringing a tickete stub back to the DrinkScotch Center for a free taco the day after games. But let's face it, the deal sucks. The only people who benefit are those who work downtown and the homeless people that get ticket stubs from fans walking out after the game, a practice we highly encourage.
There are rumors out there on the Internets that the Blues might be in negotiations for another type of promotion when the team scores five with another business in St. Louis (the day after wins, a local gas station chain offers 25-cent drinks which is a good deal, but not a taco). What would you like to see Blues fans get when the team scores five goals? Offer suggestions in the comments.
And don't forget, Taco Bell sucks for giving tacos away in Nashville but not St. Louis.