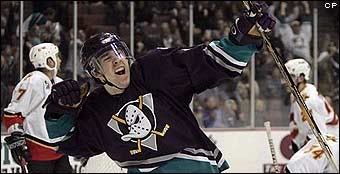 By Brad Lee
We're here getting set up. Feel free to start commenting here.
It took exactly 60 seconds for the announcers to mention tonight is Andy McDonald's first game back in Anaheim since he was traded.
Jeremy Rutherford wrote in his Morning Skate blog that he expects D.J. Dwayne King back in the lineup, but not David Perron. Also expect Christian Backman. Legace in net for his 19th straight start.
And....we're off.
18:56 The fans booed Kariya when he touched the puck. That guy wore purple for them for years without complaint and this is the thanks he gets? Typical OC pricks.
17:40 Stastny is in the press box with Perron along with Matt Walker.
16:45 Rucinsky with a turnover in the neutral zone. If he was miked up, I hope he'd be humming "New York, New York" except in a heavy Euro accent.
15:58 I should have had a beer at dinner. I'll just have to play catchup. Or catsup. Either way, I'm behind.
15:37 I like how they boo Kariya but not McDonald. It's like they don't even know who played on their team.

Gift Says:
February 22nd, 2008 at 9:12 pm e
Do you think the Niedermayers are seen in public together and are asked "So which one if you is Scott and which one sucks?"
The old man's beard with white in it gives him away. And all the rings. Bastard.
14:19 Teemu is back.
True story: back before we were married, I'd hang out with her family playing her younger brother video game hockey on the SNES. Sometimes I would be Teemu and crow when I scored with him. For at least five years, she believed his name was T. Muselanne. One day watching the Blues game, she says, "Hey, they spelled Muselanne's name wrong."
12:27 Legace with the flourish of the glove on Bertuzzi. Commenters, is Bertuzzi the most hated guy in the NHL? Sean Avery and Chris Simon have to be up there too, right?
Ohhhhh, they clap for McDonald but boo Kariya. And they have purple seats. Sweet. Teemu said he loved playing with McDonald because "they had magic together." Sounds like Maltby, Draper and McCarty's relationship.

Gift Says:
February 22nd, 2008 at 9:18 pm e
Isn't George Parros Peter's next door neighbor from Office Space?
Hey Teemu man, watch your cornhole.
Wait til you see the photo.
10:17 Blues on the power play.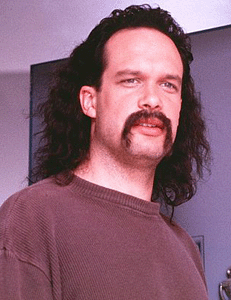 8:40 Power play over after three shots. Anaheim seems maybe half a step faster. Blues need to play much more physically against this team.
7:27 TERRIFIC defensive play by Salvador to break up a play in front of the net. But the Blues got called for a penalty. Dangnabbit.
Hey bartender, beer me!
6:00 Man, I miss Pronger on the power play wearing the Note. It's shocking the difference he makes back there.
Hey Ducks, you want to know how big the Blues' Johnson is?
- Their Johnson is so big they named a ride after him at Disney Land. It's called Magic Mountain. It's called Space Mountain.
- Their Johnson is so big he affects El Nino.
- Their Johnson is so big, Al Gore takes credit for inventing him.
4:42 Hey the Kariya, Boyes, McDonald line had trouble clearing the zone. Yes, I'm going to keep harping on this point. Fair warning.
4:07 Stempniak got interfered with in front of the Ducks' net...and he gets the penalty? Oh, it was before he got in front of the net. Dang.
1:36 Blues take ANOTHER penalty. The official calling the penalty looks like an emu from the side.
Where's Gravy?
And that's the first period. Shots are 14-6 Ducks.
Two nights in a row where the first period is kind of uneventful for the Blues. I better drink a few more beers before the start of the second.

Johnny Stats Says:
February 22nd, 2008 at 9:42 pm e
He looks like an emu???? Man I wish I could see that
Ask and you shall receive. This is the best I got.