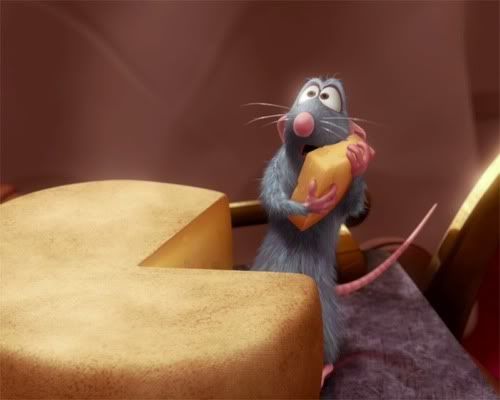 By Brad Lee
We're coming out of intermission. Pizza was goooood.
19:26 Kariya just evened it up by taking a high stick penalty. Dangnabbit.
16:53 Still no score. The photo on top is from the Oscar-winning movie Ratatouille, we think the animated life story of Mike "Rat Face" Ricci. We could be wrong. Anway, that rat movie won for best animated feature which is a lot like winning the Lady Bing -- kind of girly.
15:33 The Coyotes just scored showing that life is not fair. "No chance for Manny Legace who didn't see it," Federko said. You think he writes that down in his game notes before broadcasting? "Remember, if the other team scores, it's because Legace couldn't see it."
14:52 Another Blues power play coming up. And Gretzky is wearing a pink tie again. At least he went with a white shirt.

Dooks Says:
February 24th, 2008 at 8:13 pm e
is it REALLY neccessary to play that damn howl to signify a penalty being called??
It's horrible. No defending it.
13:46 Legace skated almost to the corner on a breakaway shorthanded for the Coyotes. Then he did his best Superman diving back to the far post on the wraparound. Legace is playing super aggressive right there. There's a review, but it doesn't look like it's a goal. It was on the line, not accross.
13:01 The power play is expiring after another great chance. Bryz is possessed right now. He's got more rubber on him than a $5 hooker on dollar day.
110:43 Boyes should have just scored on the rebound. Damn.
Anyone else surprised that "Elizabeth -- The Golden Age" won the Oscar in Achievement in Costume Design? I thought "Atonement" was robbed.
Along with the commenters, it seems that the boat sailed on Backman after the Olympics a few years ago. He had that great tournament with Sweden, won the gold medal and the three-year deal and Blues fans have been regretting it ever since.
9:20 Perron is in the box for closing his hand on the puck. Don't see that one called very often.
8:47 Reinprecht going to the box for prostituting hooking.
Who had "La Vie En Rose" in their Oscars pool for Achievement in Makeup? If you did, you're a winner!
6:27 McDonald was taken down. No call. What a travesty, just like "Sweeney Todd" winning the Oscar for Best Art Direction. Not that I know how to direct art, but "There Will Be Blood" seems arty.
Full disclosure: I have not seen one single movie nominated for an award this year, not even "Transformers" or the last Pirates of the Carribean movie.
We had some fatherly duties to attend to during the last five minutes of the second period. We weren't watching the Oscars.
Blues trailed 1-0. They have 27 shots on net through two. Bernie thinks they made just one mistake in the period...and it ended up in their net.
We'll have a third period post up shortly.