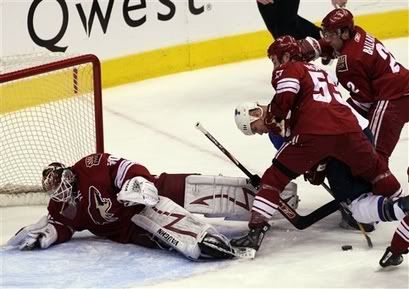 By Brad Lee
Bryzgalov has placed plexiglass in front of the net. That's the only way the Blues have stayed off the scoreboard through two periods.
I wrote early in the first period I was afraid this type of game was going to happen. Check out the big brains on Brad.
Anybody have any superstitious things they can do to get the Blues a couple goals and win this thing IN REGULATION, bring 'em on. Everybody that is except Dooks. For a change, you do nothing special. You never know...

Dooks Says:
February 24th, 2008 at 8:55 pm e
anyone else find it amusing watching John Kelly attentitively watching Bernies mouth when he's talking while waiting for his turn to speak?
It's fun to watch Kelly when Bernie is talking. It's like he'es hypnotized. Every single time.
Seeing the place they're playing tonight, the Blues are on the receiving end of the Jobing so far.
17:50 Blues still getting good pressure and still not scoring. Sounds like prom night.
During this lull in the action, we'd like to pimp Tuesday here at Game Time. We'll be updating the site all day with trade-deadline goodness. And the best part is, we won't even have to watch some backdoor, possibly against NAFTA streaming feed of TSN over the Internet. The NHL Network is simulcasting TSN all day, from 7 a.m. to 3 p.m. St. Louis time. It'll be sweet! We've got Molsons on ice and our Canadian flag ready to be hung in the living room in honor of this quasi Canadian holiday. We promise to give you enough stuff during the day to help you avoid work and keep you as informed as possible.
15:31 Legace just sat/fell/got lucky to be on the puck as Carcillo put a good shot on net that Manny stopped with his shoulder. We need more voodoo, people.
15:00 Stempniak was denied by an open net. Kariya is in the box again for high sticking, drawing another coyote howl on the PA. Damn him.
13:37 Phoenix just got a wicked shot on the power play. Legace was on his ass looking around for the puck. He sees the shot and puts his hands up like he's getting mugged in New York City.
10:47 If you're watching CW11, you know that all children who got to Coyotes games are each given a case of Pixie Sticks before the game.
10:08 Erik Johnson called for tripping. Blues running out of time.
7:57 The power play had expired but the Blues couldn't clear and the Yotes scored. Kelly even said look out as the Phoenix player approached the puck in front. 2-0.
The Blue Note Authentics Store has now opened a clearance rack for all Barret Jackman items.
6:53 Childhood Trauma in the Blues are sellers post earlier today talked about how the team does well when there are no expectations and rarely performs when there are. This road trip was all about expectations and they're shitting the bed.
5:20 Sequence just showed the Blues are not going to score tonight. Can't even explain it. Boyes and Kariya and an empty net and Bryzgalov without a stick and no goal.
Plexiglass.
3:50 left in Barret Jackman's Blues career. He's trying to carry the puck and shit. He realizes what's happening.
And there is a young couple behind Murray wearing Blues gear. She had her chin in her hand with all the body language of, "Why the fuck did we come to this game and buy front row seats again?"
Blues could very go winless/pointless vs. Phoenix this year. That's horrendous.
2:26 More Phoenix children on Pixie Sticks. Power play coming for St. Louis.
And that's the Blues' playoff chances as they lose 2-0. Sorry for no late updates but it was daddy time again. Sorry, folks.
The end was kind of like the Blues postgame show that didn't have any sound for a good two minutes: lots of flash, pretty pictures, but not a lot of substance.
Feel free to vent in the comments. We'll have another post up tonight putting the trade deadline stuff in perspective. Thanks for the memories, Barret.
The game highlights on CW11 look like they're being shown on a big screen TV built in 1984.
Feel free to discuss the Oscars since most fans were obviously watching them anyway. They just got to Best Cinematography. This thing could go on until midnight!
One more thing. We approved one new commenter tonight. Sorry we didn't get it approved sooner. You're free and clear to comment whenever now. Thanks for signing up.