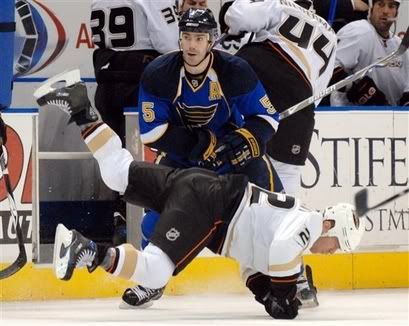 By Brad Lee
Just got an e-mail forwarded from the St. Louis Blues announcing a contract extension with Barret Jackman. Start filling in the comments and you'll see this post grow.
Holy crap. I'm shocked. Discuss.
UPDATE: Here is the text of the release from the Blues:

ST. LOUIS – St. Louis Blues President John Davidson announced today that defenseman Barret Jackman has agreed to a contract extension with the club. Per team policy, terms of the deal were not disclosed.
"Barret has been a staple on the blueline for the Blues since his rookie season," said Davidson. "He logs plenty of minutes per game and will continue to be a key part of our team as we move forward."
"I have said all along that I wanted to remain in St. Louis," said Jackman. "The Blues drafted me, I met my wife here and I want to raise a family here. I'm excited about the direction of this franchise and love playing in front of Blues fans."
Jackman, 26, has played in 58 games with the Blues this season, recording eight points (two goals, six assists) along with 63 penalty minutes. He ranks second on the team in time on ice, averaging 21:57 a game.
Jackman has played in a total of 289 career NHL games all with St. Louis, registering 67 points (13 goals, 54 assists) along with 532 penalty minutes. He became the first Blue in franchise history to capture the Calder Memorial Trophy as the league's most outstanding rookie in 2002-03.
The Fruitvale, British Columbia native was originally drafted by the Blues as their first round selection, 17th overall in the 1999 Entry Draft.
Looking for more info even as I type.
UPDATE II: It's a four year deal. Jeremy Rutherford doesn't know terms of the deal yet, but I'm sure we'll find out shortly. I do have to disagree with Rutherford on one point:

The Blues took away much of the speculation heading into Tuesday's NHL trade deadline when they re-signed defenseman Barret Jackman to a four-year contract tonight.
I think it changes the speculation. There is no way they can keep that much money tied up on the blue line. One could speculate that Jay McKee may be packing his bags. Or Bryce Salvador. Or maybe even Christian Backman. Remember, they have Polak, Woywitka and Wagner waiting in the wings to compete for starting spots for next season...unless one or more of them are on the block.
UPDATE III: According to TSN in the comments, the contract is four years at $3.6 million a year for a total of $14.6 million.