By Brad Lee
Scene: A plush executive office at the Jobing.com Arena in Glendale, Ariz. General manager/Gretzky lackey Don Maloney is on the phone.
Seriously, I will not trade you any of our young guys OR Wayne Gretzky. Stop calling.
Damn. I need to get someone to really drive Keenan insane and I figured Gretzky could do it. Worth a try. You want Owen Nolan? You can have him for a case of pucks and a cold, frosty Molson Ice. The Molson is optional.
Damn. It's tempting, but no. (click) I've got a call on the other line. I gotta go...Coyotes hockey, catch the howl. This is Don, how can I help you?
Donny boy, Bobby Gainey here. I'll keep this short and sweet. My fans all speak French and they are PISSED we haven't been good since Patrick Roy left. I just traded Huet to Washington for no good reason. I need to add an exciting player. Is Martin Hanzal available?
Are you high? No.
Damn. (click) I've got a call on the other line. Later skater... Bonjour. Je m'appelle Bob.
Stop speaking that Pig Latin. Bobby, this is Brian Burke. I'm offering Todd Bertuzzi to every team in the league. My best offer is a gift card to Tim Hortons. And while they've got that new Deli Trio sandwiche with smoked chicken, Black Forest ham and summer sausage, It's just not enough.
You're the moron who signed him. You keep him.
Damn. (click) I've got a call on the other line. Your team sucks. Talk to you later... Ducks. This is Burke. Go.
Brian, buddy. Garth Snow here.
Why are you calling me? I don't need a backup goalie. I thought you were retired.
Damn. Not again. I'm the GM of the New York Islanders. Go look on Wikipedia. I was calling today to offer you a great deal on a very reliable defenseman, Bryan Berard. He has great vision on the ice...some nights. He does a great pirate impersonation in the dressing room. He... (click) I've got a call on the other line. I'll call you back...Wang's World, Garth speaking.
Party on, Garth. Brett Hull here. I'm on the golf course after trading for Brad Richards. We've already booked our Stanley Cup parade through downtown Dallas and I'm just looking for a 12-year-old bottle of scotch for the celebration. That or a bottle of Buffalo Sabres tears. Got either? I'll trade you Krystopher Barch.
I have to dangle every trade by Mr. Wang, but I'm going to already say no.
Damn. (click) I've got a call on the other line. Hope it's 141 Liquors...Dallas Stars, we play ice hockey. Hullie speaking.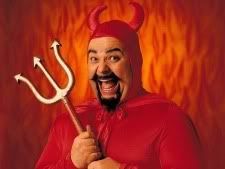 Hello Brett. Lou Lamoriello here. I hope it's nice and warm in Dallas. I wish I could be there. I've traded for Bryce Salvador this morning, but no one knows who the hell he is. I need to make a splash. I want Modano. I'll make you an offer you can't refuse. How about your soul which you signed over to me for that goal in the crease in Buffalo and I'll throw in Jay Pandolfo. Sound fair to you?
As much as I would like my soul back, I've been doing ok without it. Call me next deadline.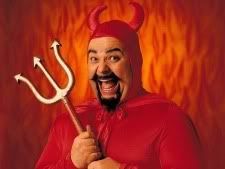 Damn. I thought you might say that. (click) I've got a call on the other line...Devils. We don't play in Hell, it's just Newark. Head devil speaking.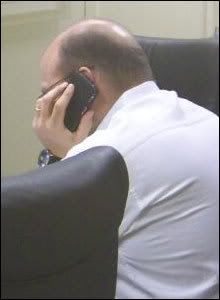 Lou, Peter Chiarelli with the Boston Bruins here. We haven't made a dumb trade all day. The fans are getting anxious. I was just online and some of the fans think I might actually have something smart in the pipeline. I have to pounce on this new sliver of faith. I'll give you three first round picks for Jay Pandolfo.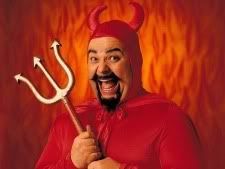 Peter. You should have called me five minutes ago. I've got an offer on the table for Pandolfo. Maybe there's someone else you might like.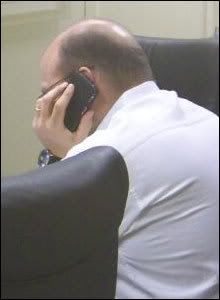 Damn. Damn. Damn. (click) I've got a call on the other line. I'll look at your Web site and get back to you...Bruins Hockey, we used to have Bobby Orr. Peter speaking.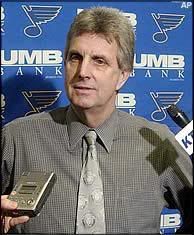 Peter, Larry Pleau with the St. Louis Bl (click) ues. Hello, Peter? Are you there? Peter?
(end scene)