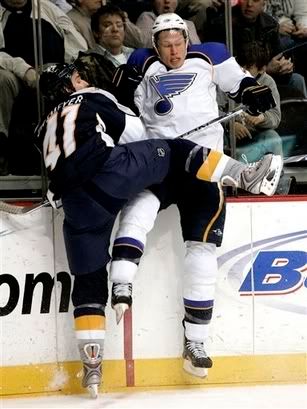 By Brad Lee
TSN says Christian Backman has been traded to the New York Rangers for a fourth round pick. Should have been you, Marty Rucinsky. But we're not sad to see him go.
The trade was announced about 10 minutes before the deadline. Backman has 1 goal and 10 points on the season in 45 games. He's missed time with injuries and has been in the Andy Murray doghouse at least once.
After winning a gold medal with the Swedish Olympic team in 2006, Backman signed a three-year contract extension that runs through next year. He NEVER lived up to expectations and would have stretches of several games where he would be nearly invisible before finally making a jaw-dropping play that left fans shaking their heads wondering why he couldn't put together more of a consistent effort during his Blues tenure.