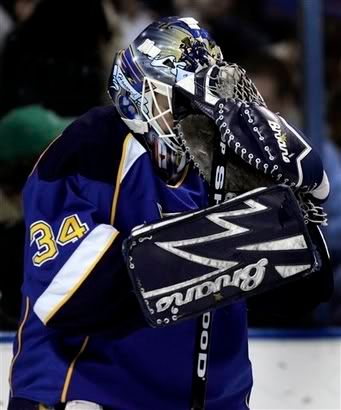 By Brad Lee
Tuesday night at the DrinkScotch Center, the Blues held a 1-0 lead for more than two full periods. They had their chances to extend that lead on nearly empty-net opportunities for Eric Brewer and Paul Kariya, but they couldn't finish a play in front of a sprawled and clueless Marty Turco. And then, it happened.
The Blues got a couple calls against them. They made some lazy plays in the neutral zone. Suddenly the Stars, a team that was obviously waiting for Brad Richards to show up and save the day, realized they could actually win the game. And they did, 3-1. It was a weak showing at the end of the game, the Blues headed back to their dressing room with their tales between their legs. We should have expected something like this.
I don't blame the Blues management for sending Bryce Salvador and Christian Backman packing without acquiring much help for the present day Blues. I'm fine with that. After watching hours and hours of deadline analysis, there wasn't much out there to be had without overpaying. The decisions made on players with expiring contracts were made with the longterm in mind. Totally cool with that. But for the guys lacing it up and putting on the Note after the deadline passed, Tuesday had to be a tough fucking day. In Jeremy Rutherford's blog at the Post-Dispatch, he had all sorts of quotes from players lamenting Salvador's departure. Here are a few highlights:

"It's a real tough loss . . . huge loss. We've played together for two years and got along on and off the ice. Just a real great guy, great teammate, great family guy. We lost a good family today." -- Eric Brewer
"It's one of those things that you knew they were going to make a move with someone. Unfortunately, it was the classiest person I've ever played with . . . Bryce Salvador. He's a guy that you never had to worry about. He's going to put it on the line every time he steps on the ice. I think Jersey is getting a solid player and a solid person. I played with him for a long time now and you won't find a nicer person than Bryce Salvador." -- Keith Tkachuk
Not only are those comments from guys sad to see a teammate go, those are comments from guys who are realizing the playoffs are out of reach, the season is over. A mighty mites team could have beaten the Blues Tuesday night.
The last two years at the deadline, the Blues have been forced to call up youngsters from Peoria and play them significant minutes because of holes created at the deadline. And that youthful enthusiasm the last two years helped the team go on a streak. Guys were playing to impress, for ice time this year. They were playing for their livlihoods, for their future. There's something to be said for that feeling in an NHL dressing room, something that's been missing recently with this version of the St. Louis Blues. And unfortunately only one real hole was opened on the team, the final defenseman spot. And there's very players left in Peoria healthy enough or skilled enough to really push for playing time. Newly acquired Cam Janssen will be competing with Dan Hinote, Ryan Johnson and D.J. King for playing time. Not exactly the competition I was hoping for.
A lot of fans are fed up with David Perron being scratched -- including Tuesday night. There's a growing sense that Andy Murray will not play young players in significant roles. That's got to change as Perron and Erik Johnson and T.J. Oshie and Patrik Berglund need to play significant roles for this team to succeed as early as next season but 2-4 seasons out -- when they'll still be pretty damn young.
Feel free to vent in the comments. I don't have anything left to vent. We wrote a ton for the blog and the paper today. I'm just curious how this team is going to finish: fighting or turtling.