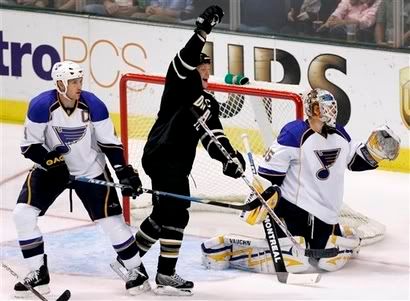 By Brad Lee
What a representative picture. There's the new captain, Eric Brewer, patrolling the front of the crease as Brenden Morrow celebrates a goal near a stunned/drunk/stoned Hannu "Don't Hit My Ears" Toivonen. What a fucking thud that was.
You can blame the flu, you can blame the goalie with the destroyed confidence or you can blame the Stars for playing well. But what struck me is the two goals in the 6-2 loss were scored by Jay McClement and Jamal Mayers -- guys you don't expect contributions from. If the "stars" on this team were delivering, they might have won this game.
By the way, the lopsided losses over the last month are starting to pile up. What a great sign from a team that's making a playoff push.
Break the game down here. "Look forward" to the game Sunday night at home vs. the Minnesota Wilds (the third home game in a row against a team that's a singular plural). Make fun of anyone you want here.
666666666666666666666666666666666666666666666666
6666666666666666666666666666666666666666
6666666666666666666666666666666666666666666666666666666666
666666666666666666666666666666666666666666666666
6666666666666666666666666666666666666666
6666666666666666666666666666666666666666666666666666666666
666666666666666666666666666666666666666666666666
6666666666666666666666666666666666666666
6666666666666666666666666666666666666666666666666666666666
666666666666666666666666666666666666666666666666
6666666666666666666666666666666666666666
6666666666666666666666666666666666666666666666666666666666
666666666666666666666666666666666666666666666666
6666666666666666666666666666666666666666
6666666666666666666666666666666666666666666666666666666666
666666666666666666666666666666666666666666666666
6666666666666666666666666666666666666666
6666666666666666666666666666666666666666666666666666666666
666666666666666666666666666666666666666666666666
6666666666666666666666666666666666666666
6666666666666666666666666666666666666666666666666666666666
666666666666666666666666666666666666666666666666
6666666666666666666666666666666666666666
6666666666666666666666666666666666666666666666666666666666
666666666666666666666666666666666666666666666666
6666666666666666666666666666666666666666
6666666666666666666666666666666666666666666666666666666666
666666666666666666666666666666666666666666666666
6666666666666666666666666666666666666666
6666666666666666666666666666666666666666666666666666666666
666666666666666666666666666666666666666666666666
6666666666666666666666666666666666666666
6666666666666666666666666666666666666666666666666666666666
666666666666666666666666666666666666666666666666
6666666666666666666666666666666666666666
6666666666666666666666666666666666666666666666666666666666
666666666666666666666666666666666666666666666666
6666666666666666666666666666666666666666
6666666666666666666666666666666666666666666666666666666666
666666666666666666666666666666666666666666666666
6666666666666666666666666666666666666666
6666666666666666666666666666666666666666666666666666666666
666666666666666666666666666666666666666666666666
6666666666666666666666666666666666666666
6666666666666666666666666666666666666666666666666666666666666666666666666666666666666666666666666666
6666666666666666666666666666666666666666
6666666666666666666666666666666666666666666666666666666666
666666666666666666666666666666666666666666666666
6666666666666666666666666666666666666666
6666666666666666666666666666666666666666666666666666666666
666666666666666666666666666666666666666666666666
6666666666666666666666666666666666666666
6666666666666666666666666666666666666666666666666666666666
666666666666666666666666666666666666666666666666
6666666666666666666666666666666666666666
6666666666666666666666666666666666666666666666666666666666
666666666666666666666666666666666666666666666666
6666666666666666666666666666666666666666
6666666666666666666666666666666666666666666666666666666666
666666666666666666666666666666666666666666666666
6666666666666666666666666666666666666666
6666666666666666666666666666666666666666666666666666666666
666666666666666666666666666666666666666666666666
6666666666666666666666666666666666666666
6666666666666666666666666666666666666666666666666666666666
666666666666666666666666666666666666666666666666
6666666666666666666666666666666666666666
6666666666666666666666666666666666666666666666666666666666
666666666666666666666666666666666666666666666666
6666666666666666666666666666666666666666
6666666666666666666666666666666666666666666666666666666666
666666666666666666666666666666666666666666666666
6666666666666666666666666666666666666666
6666666666666666666666666666666666666666666666666666666666
666666
666666666666666666666666666666666666666666666666
6666666666666666666666666666666666666666
6666666666666666666666666666666666666666666666666666666666
666666666666666666666666666666666666666666666666
6666666666666666666666666666666666666666
6666666666666666666666666666666666666666666666666666666666