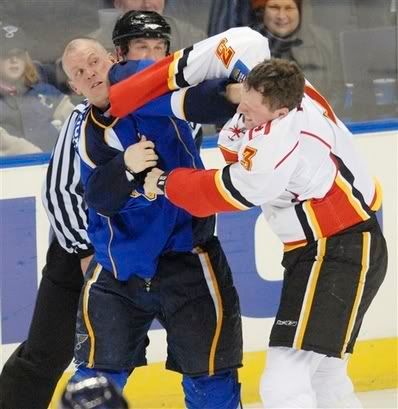 By Brad Lee
The Blues climbe back in the Saddle(dome) again tonight at 8:30 p.m. STL time. Since it's Monday, we really hope you've figured out this Daylight Savings thing by now.
Jeremy Rutherford had a Morning Skate entry already. He reports a few interesting things (in addition to giving the Vancouver score incorrectly as a 3-2 loss instead of 4-2):



Keith Tkachuk will miss the game tonight after he collided with Jay McKee. That is earth-shattering news right there: Fragile Jay and Tkachuk collide and it's Tkachuk who gets hurt. That's straight out of Bizarro World.


Murray has tinkered with the power play, putting Erik Johnson alone on the point with an umbrella formation. We expect this to last exactly two power plays before Murray realizes they can't hold the puck in the zone with four players deep and Johnson alone in the middle of the ice.


Rucinsky dresses for Tkachuk. Gallagher rolls his eyes.


Instead of practicing on Sunday, the team went to the movies. Like practice at this point in the season is going to make much difference. No word on if Perron and EJ got in with their student IDs.


We'll be back close to game time.
19:39 Alex Tanguay scores. Hol. Ee. Shit.
18:40 Shellshocked. Dunno what to think other than that will be the very last time the Blues go to the movies instead of practicing on a road trip.
HE WAS OFFSIDES. He was clearly across the line 100 percent before the puck.
Kudos to Chris D for seeing that without the slomo replay.
16:30 Bernie talked about how the players need to be aware how fast the ice is. They should be rested. They had warmups. Most guys have played in Calgary a couple times. This is one of the worst excuses in Blues homerism history.
15:05 There is a man yelling at the fans in Calgary during a stoppage. How unCanadian, yelling at a hockey game.
D.J. King going to the box for hooking. "A hooking call, what a surprise," Bernie said. Whoa. Whoa. WHOA! Was Federko being critical???
(ducks lightning)
14:32 Federko called the Flames' power play anemic. The Blues' 30th ranking finds that hilarious.
12:47 And the rout is on! Kristian Huselius shot the puck. Daymond Langkow is high-fiving the bench. 2-0 Flamers.
11:29 I was going to give Dooks a hard time about watching wrestling instead of this, but maybe he had the right idea.
And welcome new commenters. Approving even as I type.
If this gets much worse, we may have to resort to some gimmicks like Blues One Act Theater or something.
And the Blues are getting cutesy showing John Kelly on the Banged Up Blues list with a right shoulder. Will announce. Ghey.
11:22 Blues on the power playw ith the former Blue Craig Conroy in the box for prostitution.
10:54 Huh? A quick Blues power play goal from David Backes? Tinkering with the power play works? Rucinsky with a nice play? I am sooooo not drunk but it sure feels that way watching that pretty passing play.
Mike Keenan, I would like to feed your fingertips to the wolverines.
9:26 Blues did their best Canucks impersonation cycling the puck...and then not scoring. Obviously their heads are not big or Swedish enough to pull this off.
8:21 Backes is feeling it getting on Vandermeir after a late hit.
And Martin Rucinsky just gave a 20 second facewash. What a prick. Rewinding on the DVR, that is pretty funny.
And they just showed a picture of Cam Cam.
And now we hae what looks like cellphone video footage of the Blues practicing the power play. The CW 11 confuses me.
Bernie's keys to the game, you think he had in there "Get out to a quick lead" and had to edit that?
Everytime we see a new usage of Fuck Detroit, we smile.
7:21 Blues getting a power play and Mike Keenan looks confused.
4:01 Blues settling in. Flames not really putting them on their heals or anything. Keenan looks old. Those couple years in Miami, he must not have worn much sun block. It would be a shame if he got skin cancer.
And no, I don't feel wrong at all writing that.
More surveillance footage of the Blues, this time playing basketball. No wonder the power play sucks.
3:10 Family Guy is not the most outrageous shows on television. Glad to set the record straight for you, John Kelly.
2:18 Blues going to the box. Andy Murray looks like he just sharted. Ryan Johnson going to the box. McKee thinks it's a horseshit call. Bernie agrees.
1:33 Iginla scored. 3-1 Flames on the powere play. Puck went in off Brewer's leg.
1:13 Scrum after the whistle. And a camo-hatteed drunken monkey stands up and yells at the players from behind the glass. And then his girlfriend told him to sit down and shut up, he was emberassing her. He said no one saw him. He was wrong.
:48 Perron with a dangerous shot carrying the puck. Puckhog.
:26 A Flame just hit the glass in the Blues end on a clear from his zone on the PK. Impressive.
END OF THE FIRST 3-1 Flamers
"Not a good start John getting scored on in the first 25 seconds of the period. That always puts you on your heals," said Federko, master of the obvious.
Why did they never notice that third goal went in off of Brewer?
Iginla by the way has scored 365 goals for the Flames, passing Theo "Make Mine a Triple" Fleury for the all-time leader in Calgary goals.