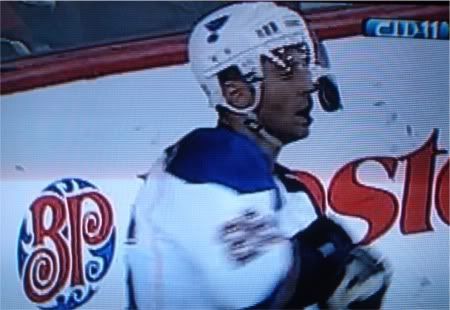 By Brad Lee
That's Marty "Hooker" Rucinsky getting a puck thrown at his face underhanded from Kipper. It hit the bottom of his visor and then maybe glanced off the tip of his nose.
We've also got this photo of the Dobbs commercial girl our buddy Dooks calls Skeletor.
Not sure if I see what he means, but I thought it was as good a topic as any here in what promises to be a mostly crappy to shitty third period.
Promise to not get distracted here in the third.
John Kelly had an interesting interview with Curtis Joseph

Tim Says:
March 10th, 2008 at 9:22 pm e
Kelly channels Chris Farley…"Do you remember when … when you were with the Blues? That was awesome"
Hit the nail on the head.
18:58 Federko and Wamsley both believe the Blues are lacking/need more confidence. Esteemed hockey watchers, is that a cop-out or what? Seems like a convenient way to describe a shitty team.
17:37 "Excellent shot by Woywitka," a sentence for the first time ever uttered by one Bernie Federko.
16:00 "Good rebound control by Toivonen," Kelly said. Hallelujah for small miracles. By late March it will be, "Hey, the Blues didn't ice the puck on that play."
Season tickets are now on sale for 08-09 HURRY!!! GOOD SEATS GOING FAST!
14:07 The Flames don't like Barret Jackman much. Have you noticed they're constantly yapping at him, making sure they hit him? Don't notice that against most teams.

Paul Goodloe Says:
March 10th, 2008 at 9:34 pm e
I'm listening on radio and Chase's hardon for DJ King bugs me.
How many times has he used the "word" physicality?

Rich Horton Says:
March 10th, 2008 at 9:35 pm e
Anybody else notice Backman's play for the Rangers tonight?? He actually didn't suck. What an asshole.
Nope. Hey remember that one time when Cam Janssen was on the ice that one time and hit that one guy and then he kept skating? That was awesome.
13:18 King just missed on a shot and then couldn't get the puck around from behind
13:09 The puck just hopped into the net for Calgary. Literally, it sprouted legs and jumped in. Only way to explain it.
That's 5-2 Flames. We'll have to figure out how to keep this lively without resorting to Fuck Detroit jokes.
"That play was a microcasm of the game," Kelly said. If you mean Calgary scored when St. Louis didn't, then you're absolutely right.
12:18 Backes is still playing hard. That guy is going to be a fan favorite if he can do it over a whole season.
12:04 Langkow shoots and scores. I think Toivonen is crying. Wamsley may be putting the pads on shortly.
Oh shit. That was a long shit, just inside the Blues line. Brewer kind of screened at the point of the shot, but no way he should let that through.
Toivonen is a broken little Euro. Here I'll agree with Bernie, his confidence is fucking shattered.

Rich Horton Says:
March 10th, 2008 at 9:39 pm e
You probably still miss Jim Campbell dont ya?
What's to miss? He still comes to games, and not as a beer vendor either. He parked next to vendor John's spot at 14th and Clark in a cop spot. Paid the cop off. Drives a nice big black SUV.
And I was not lamenting the fact that the Blues traded Salvador but that a guy who J.D. said they could use never plays.
...and when he does he takes a stupid retaliation penalty. He looked really dumb there.
9:52 Calgary could score eight in this game.
They lit the lamp but Nolan hit both posts.
9:07 That glow on the ice is a celebratory flame in the rafters? Fuck. And some announcers think the long Blues horn is rubbing it in.
"Calgary goal!" BURNNNNNNNNN!
Note, that was a dramatization.
8:13 I love my HomeBoyes! And Janssen with the assist. The Blues might still top the worst goal season in franchise history.
The game is now 6-3. Waiting for Bernie to say they're right back in this.

Do I hear 70? Note: this was sarcasm.
6:37 Blues power play. Mayers skating fast draws one from Adrian Aucoin.
A Blues goal here = giant cocktease.
Not shots on Blues' last two power plays.
6:00 This umbrella fucking thing is a recipe to give up shorthanded goals with a rookie nearly alone on the point. Almost happened again.

Paul Goodloe Says:
March 10th, 2008 at 9:51 pm e
People can flame me all they want, (no pun intended) but I think this team has fucking quit on Murray. I don't know how Davidson can look at this team and be happy with how they digressed after the middle of December.
Honestly, we've tried avoiding this topic. Andy Strickland wrote about it. It's been mentioned on AOL Fanhouse. Bernie Miklasz kind of asked the question. To me, it's moot about whether the team has quit on Murray because I don't see the team doing anything about it. Murray will get most if not all of next year to coach this team. It would take a giant letdown next year. Bigger than this year.
It is probably a very valid question in general, but not in relation to Murray's tenure with the team at this point. Fair assessment?
4:51 Tanguay scores another shorty. 7-3 Flames. Never really liked pulling the goalie on the power play because there's no danger of icing. Not that it matters right now.

Chia Says:
March 10th, 2008 at 9:55 pm e
McDonald = Failure
Now that's an interesting topic. The Blues have not been better with him compared to Weight, who pretty much sucked. But I don't think it's all his fault. He's a good complimentary player (think Teemu) but he's not a centerpiece type guy to build a front line around. So yeah, I will admit I'm disappointed, but then you have to ask what you expect out of him.
1:27 Quick quiz (no searching): how many fights has D.J. King been in this season? Answer after the game.
:40 "The Blues have not played well against Calgary in recent years, only one win in nine games," Federko points out. Damn.
GAME OVER
7-3 Calgary. Toivonen barely waited for the clock to hit triple zero before skating off the ice. His body language said, "I'm scared. Someone hold me."
Quiz Answer: In 49 games this season, counting tonight, D.J. Dwayne King has 13 fights. That's only one every three games, which granted seems about normal in the NHL today, but it's not like he's not worth much else out there.
No postgame show to make fun of. Feele free to keep it going in the comments.
By the way, we love the company for these live blogs. With the team free falling right now, it at least makes me feel better I'm sitting here typing and wisecracking for no one.
We'll have at least one regular post up tomorrow, maybe a second and then the live blog for the Edmonton game. Woohoo!
Also, we're probably going to put a call out for volunteer live bloggers for this weekend.
Later, skaters.