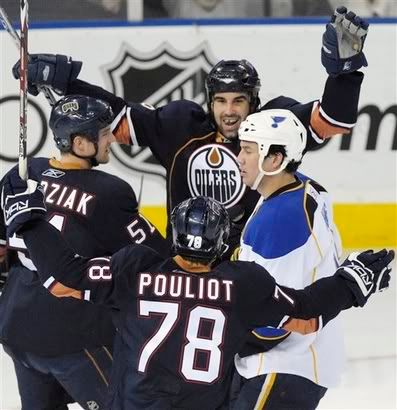 By Brad Lee
Most awkward goal celebration. Ever.
Even with skates on, Stempniak is obviously shorter than the cameraman during the interview with Bernie. The guy is diminutive.
19:50 FSN didn't get back in time to drop the puck. I want a refund.
17:40 Cam Jannsseenn sighting. How many shifts has he had, four?
15:40 Legace seems to be more confident/with it than early in the game. Maybe he just needed a stiff cup of coffee.
15:00 In the car we have the XM and had to run an errand. Listened to part of the Edmonton broadcast. It's sponsored by Ford.
Wonder when Tim Hortons will sponsor Blues hockey.
13:40 Blues getting a penalty. Janssen was whining to the refs.
He took an exceptionally dumb penalty last night.
On The Roll Home on 1380 today, they had John Davidson on talking to Bernie and Randy. J.D. said it shouldn't be a surprise No. 55 hasn't played much. He's missed the entire year with injury, didn't get much time in the American League and is on a new team with new coaches and a new system. He said over the summer they're going to work on his skill with the puck. Said he has some raw skill that could be developed.
He had me all the way up until the last point.
Oilers 2-3 on the power play tonight? They're bound to blow this one.
13:00 Gagner shot off the iron. Legace needs new pants.
12:20 Brewer getting physical in front of the net. Needs to calm down just a little. It's not 1997 anymore.
11:10 Matt Walker almost ALMOST walked in and scored. I thought it was going to happen.
9:51 Blues buzzing right now. Kariya looks a little inspired. Optimism is almost brimming.
8:02 Blues going on the power play. We'd love to see Walker's shot on the point right now, but it ain't happening.
If I wanted to jinx the Blues, I'd mention how they are second in the league in allowing a certain type of goal during a certain time period and that two of them happened last night. But I'd hate to do that, so I'll just pretend I never brought it up.
Smid. What a horrible name. I'd change that shit first chance I got.
Sounds like an evil henchman.
7:20 If I'm Edmonton, I'd double team Boyes on the powere play.
6:57 Boyes almost killed Gilbert with a shot. He is on fire right now.
5:46 Smid and Jackman jawing after Smid skated in and almost scored. I'm not a lip reader, but I think Jax may have said, "Go find some deodorant, you stinky Fruit Euro."
3:44 Edmonton should have scored. Puck in the skates. Looked like a Blues pass.
2:00 I like McDonald more playing with a bigger guy like Backes. That's a nice combination. Hope Murray sticks with it.
1:33 Boyes hesitated letting the shot loose, defender closed in and deflected the shot. Damn.
He could still get another one.
:59 Walker with some bad luck on a decent hold-in chance. Oilers have some pressure, Blues clear.
END OF REGULATION 3-3
The White Jamal Mayers had a mad rush from end to end and got a shot off. No rebound help doing that, Mr. WJM. Legace had an awkward save with three seconds left. Sweet.
Keep it here for OT.

Manbones Says:
March 11th, 2008 at 9:20 pm e
I've been reading you guys' comments for a while, but I've decided to break the silence. I guess that the Blues have decided to get a point before losing in OT/Shootout.
There's the optimism that GT online has become known for!
4:00 Blues haven't had the puck yet, it seems. Sweet.
Legace just got bowled the fuck over by Hemsky. Head first.
FUCK.
And I totally agree.
That is not cool. Who do you think you are, Patrick Sharp? And of course Jackman is in the area. AGAIN.
Legace standing, bent over. Going down to his knees. Murray is pissed there's no penalty. Quick camera shot of Hannu puking on the bench. Or drinking water.
Jackman was pretty much responsible. AGAIN.
3:30 Shot for Edmonton goes wide. EJ big shot and a miss.
Still worried about Legace.
2:10 Nice to see both rookies getting playing time in OT. That wasn't happening in January.
1:10 McDonald played hot potato with the puck and couldn't get a quicker shot off. Dammit. All four Oilers were in a line from the goal to the blue line.
:42 EJ with a great steal. And then Oilers almost scored. Damn.
4.9 seconds left. Edmonton scores. Damn. Cogliano is a young guy in the NHL with a bunch of game winners right in a row. He's gotta be pulling major tail anywhere he goes in Alberta.
FUCK.
"I don't believe Manny could even react to that," said Federko. I can't react to that either.
"They did get a point tonight, and that's really a breather for them," Federko said. Huh? I don't even know what he's trying to say here. The Blues are relieved they lost in the last five seconds of overtime after battling back the whole contest? They're satisfied with one point? They need it to keep in the playoff race? Put down the Nyquil, Mr. HOFer.

Manbones Says:
March 11th, 2008 at 9:33 pm e
Why couldn't they just lose in regulaltion. All I'm asking for is a little commitment. If you're gonna lose, lose in style.
I gotta disagree. That was losing in style. That's worse than losing in the shootout.
"The thing here is, you can't fall behind by three goals," Federko said. "They're fortunate to get a point." I can feel an aneurysm coming on.
Cogliano has an NHL record with three game winners in a row? That's it?
Well, that was a shitty couple of nights in a row. I have said a couple times I wouldn't be disappointed by anymore losses this year, but it's no fun watching this team just shoot itself in the foot every damn game. They can't do much right.
Now they play in San Jose Friday and Anaheim Saturday.
Ugh.
Well that's all she wrote. If I hear another dumb thing from Federko, I might have to break my TV. Thanks for hanging out and talking hockey for at least a few comments tonight.