By Brian Weidler, Game Time Prospect Department
With the Blues' recent skid, a lottery pick in the 2008 Entry Draft appears more and more likely. The Blues are virtually guaranteed, at this point, a top five selection ,and have a shot (albeit not a very good one) at getting the first-overall selection for the second time in three years. Since the draft is the major source of players for the system, and since the system is our focus here in the Game Time Prospect Department, we'll use this opportunity while the Blues are on the road to present the first annual "Game Time" Entry Draft Preview, St. Louis Blues edition.
Draft Trends: First Round
Since the 2003 draft (henceforth referred to as Jarmo Kekalainen era), the Blues have had at least one first-round pick every year, and have had eight picks total in the first round. The picks have been split pretty evenly between Americans (3), Canadians (2), and Europeans (3), with four forwards, three defensemen, and one goaltender being selected in the Kekalainen era.
The highest the Blues have drafted is, of course, first overall (Erik Johnson, 2006), and the lowest is 30th overall (Shawn Belle, 2003). The Blues' average first-round draft position in the Kekalainen era has been 19th overall, and they will draft somewhere in the top five this year, barring a completely unforeseen surge in on-ice effectiveness over the next four weeks.
Only one of Kekalainen's first-round picks with the Blues has busted, and that was his first one. Belle was traded to Dallas for the since-departed Jason Bacashihua, and Belle is now up and down (mostly down) between the Minnesota Wild and their farm team in Houston. Two of Kekalainen's first-rounders, Johnson and David Perron (2007), are currently on the NHL roster; another (Marek Schwarz, 2004) is playing for Peoria; and two more (Patrik Berglund, 2006 and T.J. Oshie, 2005) are expected to make strong bids for a spot on the Blues' NHL roster in 2008-09.
The bottom line here is that there really hasn't been a "typical" Blues' first-round selection in the Kekalainen era. Statistically, the Blues are just as likely to take a Canadian-born major-junior player as they are to take a whiz-bang European junior, or a US-born player from the National Team Development Program. The draft strategy for the Blues, as it is for everyone else in the NHL, is to take the "best player available," but some of the Blues' past first-round selections -- notably Oshie and 18th-overall pick Ian Cole in 2007 -- give some insight into the fact that Kekalainen's idea of the "best player available" does not always coincide with the conventional wisdom on that subject.
With that in mind, and assuming that the Blues do not get the first-overall pick via the lottery and draft Steve Stamkos (the odds of that aren't good; see this stltoday discussion for a good analysis), here are some brief capsules of players expected to be available in the 2-5 range, and who appear to be prime targets for the Blues.
1. Zack Bogosian, D, shoots R, 6'2, 200 pounds, Peterborough (OHL). Even if the Blues had the first overall pick, if your GTPD was doing the drafting, we'd very likely take this player ahead of Stamkos. Bogosian has everything you want in an NHL defenseman -- size, skating ability, aggression -- and he has an offensive game as well. Bogosian is currently Peterborough's overall scoring leader, and tied for fourth in the OHL in defenseman scoring with 11-49-60 totals in 58 games. His 49 assists are second among defensemen, and 15th in the entire OHL in that category.
Bogosian is also a plus-10 on a mediocre (27-36-0-3) Petes' squad that has a goals for/goals against differential of minus-52, and has racked up 70 minutes in penalty time. The Massena, NY native is also a frequent and effective contributor on the power play, with six of his 11 goals, and 30 assists (eighth best PPA total in the OHL), coming with the man advantage.
He is a warrior in every sense of the word, fiercely competitive and loyal to his teammates, and displays remarkable poise, confidence, and leadership ability. Overlooked by the Team USA selection committee for the World Junior Championships last December, Bogosian is a safe bet to be a cornerstone of the U-18 squad heading to Kazan, Russia in April.
Rankings: NHL Central Scouting Midterm, 3rd overall; McKeen's Hockey Prospects Midterm, 5th overall; International Scouting Services February, 9th overall (up from 10th in January, and 12th in November 2007).
2. Mikkel Boedker, LW, shoots L, 6'0, 195 pounds, Kitchener (OHL). Like Blues' 2007 first-rounder Lars Eller, Boedker is a Dane who played the 2006-07 season with Frolunda's junior club in Sweden. Boedker and Eller were, in fact, linemates with Frolunda, and have also played together at the international level with Denmark's national junior squad.
While scouting Eller last year, the Blues cannot have failed to notice Boedker as well, and now that he has come to North America and made the adjustment to the North American game, his skill set will be getting even more notice. His best asset is his shooting ability; he can get his shot off quickly, and he has a laser from the point. He is an excellent skater, very quick and mobile, and uses that asset to get into position to unleash his shot. Boedker is third among OHL rookie scorers with 26-43-69 totals in 60 games, and has racked up 12 goals and 32 assists (fifth in the OHL in that category) on the power play. His eight game-winners for the Rangers also ranks him fifth in the OHL.
At 52-10-1-3, Kitchener is the top team in the OHL, one of the top teams in the entire Canadian major junior system, and the host team for the 2008 Memorial Cup. Boedker will get plenty of chances to shine in the spotlight over the next few months, and if he is able to continue to produce at his current rate, he and Lars Eller may well be teammates again in the very near future. His somewhat under-the-radar rankings thus far, and his European origins, fit the profile of players that the Blues have surprised the NHL by selecting in recent years.
Rankings: NHL Central Scouting Midterm, 13th overall; McKeen's Hockey Prospects Midterm, 8th overall; International Scouting Services February, 11th overall (up from 22nd overall in November 2007).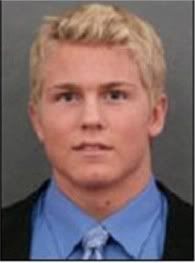 3. Colin Wilson, C, shoots L, 6-01, 215 pounds, Boston University (Hockey East). The son of longtime NHL player Carey Wilson, this big center was one of the leading lights on the National Team Development program in 2006-07, with 30-44-74 totals in 56 games. Wilson also appeared with the USA U-18 squad in the 2006 and 2007 World U-18 Championships, winning gold in 2006 (7 GP, 0-1-1) and silver in 2007 (7 GP, 5-7-12).
Wilson graduated to the U-20 World Junior team this year, and led the Americans in goals with six. Despite his efforts, however, Team USA finished a very disappointing fourth in the tournament, and Wilson's future as a top-line NHL'er was brought into question along with many of his other high-profile teammates. Determined to re-establish himself as a player to watch, Wilson returned to BU after the WJC and maintained a point-per-game pace (34 games played, 12-22-34, plus-12, 18 PIM, 3 PPG, 3 GWG). The Terriers finished the HE regular season as the second seed in the league, and will host Massachusetts-Lowell in the Hockey East Tournament beginning this weekend.
Wilson's assets are his size and strength, his hands, his faceoff ability, and a tenacious, hard-nosed overall game. As a skater, Wilson has acceptable form and technique, but his speed needs work. This was a knock on David Backes when the Blues drafted him, and hard work on Backes' part has gotten him to the NHL full-time. Wilson is a similar player, and if he can exhibit the same dedication to improving the lesser aspects of his game, he should have a similar place on an NHL roster.
Rankings: NHL Central Scouting Midterm, 9th overall; McKeen's Hockey Prospects Midterm, 11th overall; International Scouting Services February, 8th overall (up from 9th in November 2007).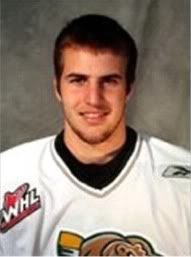 4. Kyle Beach, C/W, shoots R, 6'3, 205 pounds, Everett (WHL). On talent alone, Beach would be a first-round selection in any year. He can play any forward position, has ice water in his veins when taking faceoffs at key moments of the game, and he can score, as evidenced by his 27-33-60 numbers in 59 games for the Silvertips.
What sets Beach apart is his size, aggressiveness, and agitating nature. He is virtually the prototype of the modern power forward, with great hands and puck skills, and he sees the game and the developing play extremely well. He is effective in traffic and along the boards, has an excellent shot, and plays at full intensity every second of every shift.
It's the intensity that gets him into trouble, as Beach is among the WHL's leaders in penalty time with a whopping 211 minutes. He is confident to the point of cockiness, and he has the size and strength to back it up. Beach will agitate, with non-stop commentary directed at opposing players on the ice, and he has shown no hesitation to drop the gloves with anyone and everyone. He's best when he keeps all of that intensity under control, and uses those attributes to take opponents off of their game; when he's out of control, he's a handful for his opponents and coaches alike. An organization with strong leadership at the top, one that can get him reined in and playing in control all the time, will be very happy selecting this modern-day Rick Tocchet in this year's draft.
Rankings: NHL Central Scouting Midterm, 4th overall; McKeen's Hockey Prospects Midterm, 7th overall; International Scouting Services February, 5th overall (up from 6th in November 2007).
Next week, the second round and beyond, with additional analysis of past draft trends and capsules on likely picks... including the 2008 GTPD "Tomas Kana Special," where we call the shot for a player that we feel the Blues are likely to pick outside the first round. Don't miss it. Until then, remember... "if we do not prepare for ourselves the role of the hammer, there will be nothing left but that of the anvil." Auf wiedersehen.