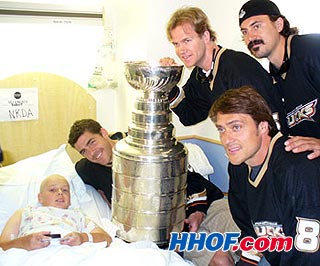 Yeah, Pronger's been doing that for a while. Helps him look more human.
PCS- 19:06- BLUES GOAL! The Woywitkanator gets a pinball goal off of Pahlsson. Hot damn.
PCS- 18:00- Great effort by McClement getting back to break it up in front of the net. Not good. Great.
Chia- 17:10- Is everyone else shouting out "Random Polock sighting!" every once and a while?
Chia- 15:52- Neidermeyer puts one past Legace. Right past our defense and under Emanuel's arm. If it makes you feel better, California Scott (roommate of PCS) says, "Anaheim, they suck!"
Cha- 11:26- Blues get a too many men call. Murray is not amused.
Chia- Later- Glass fuck up. (EDIT: to clarify, my beers fine. The glass around the Ice. ) Stand by for hockey.
Behold EJ's Facebook photo.
PCS- 9:13- Damn fine chance for the Blues there. I guess that's why they call it the Blues.
PCS- 8:51- Niedermayer scores again. What the hell!? And right after that great chance on Jiggy. fuck detroit
PCS- 5:08- An icing call followed by another Skeletor sighting. What's the story with the Skeletor following? Anyone?
Chia- 3:00- Ya know? that casual confidence at the end of the 2nd? Starting to fade.
PCS- 2:20- Great offensive sequence not yielding a goal leads to several swear words in the apartment of PCS.
PCS- 1:38- Empty netter for Anaheim. 5-2. Sons a bitches.
Chia- 0.01 Fuck Detroit.
Coming up...the post game show. And beer.
Well, looking ahead, the Blues still have a bullfuckingcrapshit-load of the road trip to go. This could turn ugly, well, uglier than it is already. It was great hangin out with you tonight -Chia
or...two and a half men.