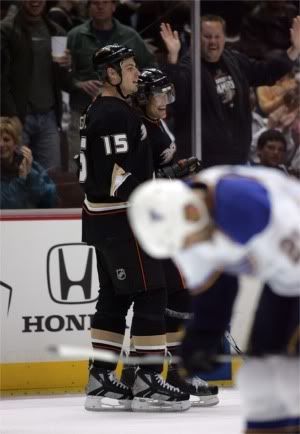 By Brad Lee
On Tuesday, Feb. 19 the St. Louis Blues defeated the Chicago Blackhawks 5-1 at home in front of the second consecutive sellout crowd. It was the team's second straight 5-1 victory and kept the team three points out of the final playoff spot in the Western Conference. Since that game, the Blues have easily been the worst team in the National Hockey League.
In the following 13 games the Blues have a record of 1-10-2 with that lone win coming against the Los Angeles Kings, the worst team in the NHL (but a team that beat the Blues in the first game after the rousing Chicago victory). During this pitiful span, the Blues have scored just 19 goals in those 13 games while giving up 46 goals. Forty-six.
This team has imploded. The emberassing losses are starting to pile up on this horrific road trip that many Blues fans were dreading when the schedule came out last summer. Nine games over three weeks of traveling would be a grind even for the elite teams in the NHL. For a team like the Blues that is trying to find its identity and continue growing, it's a killer.
It would be easy to say the players have packed it away for the summer, but the Blues are still playing with some intensity. The loss in Vancouver on March 8 felt almost like a playoff game. Their resiliency in coming back and sending the game March 11 in Edmonton to overtime was nice to see even though they blew it with five seconds left. And while all these losses improve the team's draft status this coming June, I'm still in the camp of not rooting for Blues losses for a very good reason.
These lopsided and consecutive defeats threaten to make this team a joke again. The franchise had rebuilt some respectibility in this town. They were viewed as the up and comers compared to the Cardinals and the Rams. Ending the season like this can make even the most committed of fans question where the team is headed. And other people out there are beginning to notice.
So Blues fans, what's your take? Has this team given up? Are you less confident about the direction of the team now compared to nine months ago after last year's draft? Let us hear it in the comments.