By Brad Lee
In the middle of the worst stretch of games for the St. Louis Blues this season, the team played a solid game frustrating the Montreal Canadiens in the Frenchy part of Canada Tuesday night. We were as shocked as the disappointed Habs fans who were hanging out in our live blog.
A shootout win for this team should be thrilling. We should be talking about how good the Blues looked, how they haven't given up on the season and they're still competing at a decent level. And yet, the win feels more like this photo: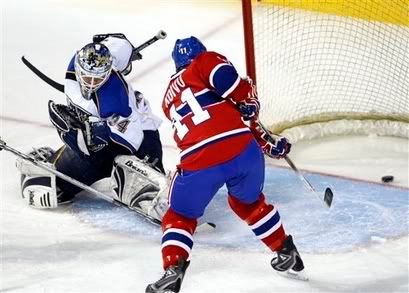 What we're trying to say is a Blues win right now means jack shit. The season's over. The youngsters in the organization still aren't getting an abundance of playing time (David Perron didn't see much of the third period and none of overtime before going out for the first shootout shot). Roman Polak got sent back to Peoria because Jay McKee is healthy. At least Erik Johnson is playing more than 20 minutes a game now.
It's nice actually playing the role of the spoiler instead of the team other clubs circle on their schedule as an automatic two points. But this win still doesn't feel like it means anyting. They didn't accomplish anything. And that's a shitty feeling we can't shake. If you're fan tanking, this win is actually bad news because it hurts their draft status.
Leave it to this team to make a win feel like a loss. Woot!