By Brian Weidler, "Game Time" Prospect Department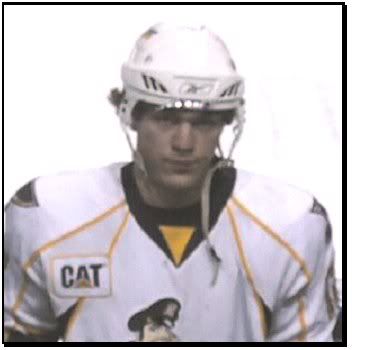 After a long journey from Alaska, through Traverse City, Michigan and then Peoria, center Julian Talbot has at last officially landed in the St. Louis Blues organization.
As reported in the Peoria Journal-Star by Rivermen beat writer Dave Eminian, Talbot, a 6'0, 185-pound left-shooting centerman from Wahnapitae, Ontario, has signed a two-year contract with the Blues.
Currently fifth in the AHL's rookie scoring race, Talbot has a team-leading 20 goals, to go along with 21 assists and a plus-12 rating in 65 games this season. Talbot also has 39 minutes in penalty time, has scored six times on the power play, once shorthanded, and has two game-winners.
Talbot, who reaches his 23rd birthday next week (born 03-24-85), spent the 2006-07 season with the Alaska Aces, where he racked up 20-33-53 numbers, with a nifty plus-24 and 54 minutes in the sin bin. Talbot also led Alaska in playoff scoring with nine goals and 11 assists, a total that ranked him in a tie for fourth place in the ECHL playoff scoring race despite playing only 15 games.
In a blog entry by Eminian, done prior to Talbot's signing, Eminian predicts that Talbot "has made himself a viable call-up next season," and features a video of Talbot fighting Lake Erie's much bigger (6'2, 200) Mike Vernace.
==========
"If we do not prepare for ourselves the role of the hammer, there will be nothing left but that of the anvil."
-- Otto von Bismarck, 1851