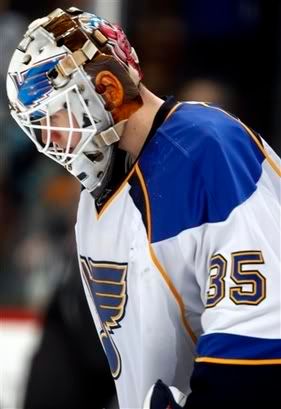 By Brad Lee
Remember way back in November and early December (before the debacle on a Sunday night in Colorado when the team gave up nine goals) how we were confident in backup goaltender Hannu Toivonen? Those were grand days, my friend. Now he's the portrait of failure. And he's starting in net tonight against Ottawa, the fourth best offensive team in the league, near the end of the longest road trip in franchise history. Excelsior!
According to Jeremy Rutherford, Andy Murray wants to see what Ears can do given a better opportunity than coming off the bench in the midst of starting a blowout:

"We need to know what we've got," Murray said of Toivonen starting. "We look at the game in San Jose...our team didn't give him much of a chance. It's important to know what we've got, so he's going back in there tonight. We hopt to give him a stronger start tonight."
Toivonen's last win was Dec. 7 with an 0-5-3 record since then. He started out 5-3-0.
Rutherford also reports that:



Jay McKee's bone bruise is worse and Roman Polak and his jokes will be back up in the lineup, possibly for the majority of the remaining nine games.


The defensive pairings are McKee/Brewer, Woywitka/Walker and Jackman/E. Johnson.


The Cam Cam will have another night in the press box with Martin Rucinsky.


We'll be back around 6:30 p.m. St. Louis time for the drop of the puck. REMINDER: The game is on FSN because of a scheduling change. It was not originally going to be televised.
PREGAME: I am torn, torn like an old sweater. My NCAA tournament bracket is 8-0 so far and one of the more entertaining games of the first round (USC vs K-State) is happening right now. I might be watching basketball in a window in the computer and the Blues on the TV. Fair warning: it might get a little distracting.
And contrary to the Answer Man, I have no illusion about the Blues winning consecutive games in Eastern Canada. Not this squad. Not this hellacious road trip.
They just showed footage of the team getting off the plane the other night. It was snowing in Ottawa. Glad to be here in St. Louis.
Kansas State is up 16-11 in the first half, in case you were wondering. You probably weren't.
Senators have three 30-goal scorers (Alfredsson, Heatley and Spezza). Sweet!
Scotiabank is an interesting looking word.
20:00 Martin Gerber in net instead of Ray "Crazy Motherfucker" Emery.
17:54 Goal Ottawa. Dammit. That was quick. Helloooooooo Ears.
K-State up 21-14, 9:09 to play first half. Much more interesting than this debacle to be.
16:50 Icing on Ottawa! They're on the comeback trail!
Sorry, just took a big drink of Pepsi and got kind of a sugar rush for a second.
16:20 Polak was trying to carry the puck, no one was coming back to help him. He skated backwards with the puck...into the freaking corner where he got smashed and turned the puck over. Damn, rook.
15:26 Perron is playing with D.J. King and Yan Stastny again. Way to use your young offensive players correctly, Andy Murray.
"Yeah, is that a bitterness casserole? Great. I'd like a double helping, please."
14:00 One single comment six minutes into the game? Yeah, this is going well.
12:40 The McDonald, Backes and Stempniak line is skating really hard. That's nice to see.
Is Keith Tkachuk still on the team?
12:00 Can you believe Ottawa actually traded FOR Martin Lapointe at the deadline? That guy sucks. His contract also helped to cause the lockout of a few seasons ago.
And when I say "you," I mean the mythical you. Apparently no one is reading this. If you are, give me a holler in the comments. I beg you.
10:31 JAMAL MAYERS tips one in! Holy shit, it's tied! Jackman just through it around the boards and Mayers on the doorstep deflects it in. Looked easy. Well I don't know about you, nonexistant audience, but I'm shocked.
9:40 If I don't see some comments soon, we're going to switch to open thread mode. I'm sure my wife won't complain.

Tim Says:
March 20th, 2008 at 5:55 pm e
… Jammer disrespects the Ottawa crest, shoots at the net instead…
Congratulations on being the second comment during the game. You could just call me on my cell phone and I wouldn't have to type all these "witty" comments.
7:47 Jeff Woywitka scored? He was the third guy down for the Blues, behind the defense. Tkachuk (sorry Walt) centered and Woywitka surprised them all.
Flabbergasted. 2-1 Blues. Woywitka's second of the trip, third in his career. Well if that doesn't drive the commenters out of the woodwork, nothing will.
5:15 Senators are a little too cutesy with the puck, trying to make the perfect play. They're too skilled for their own good.
3:43 Schubert pretty much just found open ice between the faceoff circles and put the one timer past Ears. 2-2. Damn.
3:03 Woywitka is shooting hard ones from the point. Lots of confidence in Mr. Spare Part In the Pronger Trade.
And that's the end of the first period, tied 2-2.