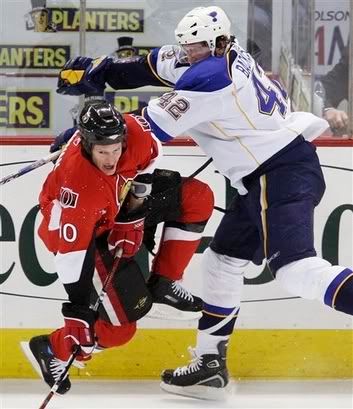 By The Easter Bunny
Happy Easter, everybody!
After you find all your brightly colored eggs and chocolate rabbits and stuff yourself on Easter ham, plop down on the coach and relax with a 2 p.m. game at Chicago. Neither team has much to play for at this point of the season, but there were some fireworks and plenty of hard feelings the last time the Hawks came calling in St. Louis. It will be interesting to see if any scores are settled from the last game.
I've been busy hopping hither and yon hidding all my eggs (even though I'm a mammal) and I've been too tired to even look up the NHL.com preview. I'm sure you don't expect that from Santa in the games right before Christmas so I hope you'll let me slide too.
If you get fed up with your family and preseason baseball and the NCAA tournament (this bunny had Pittsburgh in the Final Four -- ouch) stop on by the open thread. I'm sure you won't be alone.
6:49 Blues getting a power play. I'm eggstatic.
6:30 Blues 0-3 on the power play so far with no shots. That's pathetic.
And here in MO'Fallon, it's snowing hard at 4:20 p.m. Is it Christmas instead of Easter?
5:34 Brewer with a LOUD post. Nice opportunity after a good pass from Tkachuk on the doorstep.
4:49 Power play over. Blues still buzzing. Hopefully they have plenty of Cabury eggs on the bench to get a sugar rush here at the end of the third.
3:26 Blues getting a penalty here late. Fucking ref trying to be all charitabl on Easter.
And I kind of wish skeletor was wearing pastels or something for today.

Dooks Says:
March 23rd, 2008 at 3:23 pm e
WHY IS SKELETOR TORMENTING ME!?!?!?
Memo to Dooks: You may have had too many Reese's peanut butter eggs. Or you may have ingested some of that fake plastic grass. Either way, you need to elevate your feet or something.

Guinea Pig Says:
March 23rd, 2008 at 3:25 pm e
Why is hitting a post not counted as a shot on goal? You couldn't be more "on goal" than hitting the post.
Because it would skew shots vs. saves stats.
And now there are hockey-puck sized snowflakes outside. Global Warming has officially been reversed!
2:26 1 minute left on the Chicago power play.

Dooks Says:
March 23rd, 2008 at 3:27 pm e
it's crazy, the last 8 games of the season are 2 games against each of our division rivals
The NHL decided to have only divisional play end the season for every team. It's kind of cool if your team is in a playoff chase. If...
1:26 Power play over. TKACHUK! 2-0 breakaway, and he put it over Khabibulin's shoulder.
Holy crap. I think I just Detroited in my pants a little.
:54 Holy. Shit. Chicago scores on a long shot from the point. I'll say it for Federko. Toivonen never saw it.
Wisniewski with the goal. "This alluded Toivonen. What a change of events," Federko said. I'm almost disappointed in his reaction. The goal was 23 seconds after Tkachuk.

matt Says:
March 23rd, 2008 at 3:31 pm e
how unlucky can toivo be?
I've always said you make your own luck, but you might have something there.
OVERTIME
Bernie says the Blues were in big trouble with three minutes left. Because one more loss on the season is the tipping point? Please. Shouldn't announcers be concerned with putting a game into context? If you didn't know the standings, you'd think the Blues need the two points to stay in the playoffs or something.
4:36 "One shot will win it," Kelly said. Unless of course it's Jamal mayers hitting the Indian head in the eye on Khabibulin's sweater.
4:10 Erik Johnson seeing ice time in overtime. When was the last time Perron was wout.
3:52 Patrick Kane wins it on a weak rebound at the doorstep. Federko calls it strange. I call it bullshit.
Well sorry we couldn't bring you a winner with the surprise end of the game live blog. We now return you to our regularly scheduled open thread.