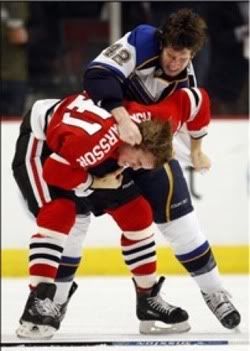 By Brad Lee
Chicago head coach Dennis Savard apparently doesn't like his young hot shots getting breathed on wrong. From the Post-Dispatch:

"I'm ticked off at a bunch of their players taking shots at us, free shots," Savard said. "After whistles, taking cross-checks behind the head, behind their backs. Jackman a few times ... Backes goes after Niklas Hjalmarsson. How tough is he? We'll figure it out someday."
Apparently Backes is tough enough to dent the back of Hjalmarsson's (Pat, I'd like to buy a vowel) head as explained in the above photo.
Patrick Kane should learn that teenagers shouldn't complain about physical play in the NHL because most guys in the league probably know how to read (Draper and Maltby excluded of course). Last year's No. 1 overall pick said:

"After the whistle they were trying to start some stuff, especially in the first period," Kane said. "They were trying to get after us to maybe send us a message. It's something teams have been doing for a while to guys like myself and Jonathan. Maybe (Sunday) night was a little worse."
Awwww. Poor little Patty. Because you and Jonny are soooo good, the other less-skilled players take it out on you. I'm sure you never do anything on the ice to bring it upon yourself. Of course Barret Jackman might have a different opinion:
"Those are their two best players. If they want to play in this league a long time, it's going to be a situation where they're going to have to face some adversity and that's having to play through things. Kane had his stick on our goalie every whistle and Toews was standing in front of the net. If they want to go to the net, it's a physical game.
"Sorry that we hurt their feelings."
Now that is the best quote we've heard from a Blues player all season. It makes us wonder what the rematch will be like at the DrinkScotch Center on Saturday night.