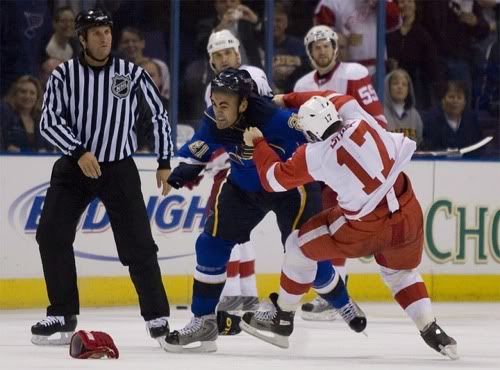 By Brad Lee
No. 1 sign fans are ready for the season to be over: I've been scrambling to find people to go with me to the hockey game tonight, Gift has called me with extra tickets and another commenter has called me with a ticket offer. You'd think Columbus was in town.
St. Louis Blues fever...catch it!
If you'd like to cross the fence for a quick preview of things, go to On The Wings. They share with us these bits of information:



Dallas Drake and Dan Cleary will be back in the lineup tonight.


Tomas Holmstrom did not skate, but is with the team. His abdomen will get more tests tomorrow in Detroit, either an MRI or ultrasound. His return isn't going to come in the next few days (EDIT: Couldn't happen to a nicer guy).


Dominik Hasek has the flu, so Chris Ozzzzzzz-Good gets the start.


Blues lines:
Kariya-Tkachuk-Boyes (BTK is a killer line.)
King-McDonald-Backes (NO WAY this line stays together long.)
McClement-R. Johnson-Mayers (Do you think McClement could be the long lost kid brother of the Mayers brothers?)
Stempniak-Perron-Janssen (Henceforth to be called the Doghouse Line.)
Jackman-E. Johnson
Brewer-Polak
Woywitka-Walker


The season series between the Blues and Wings is tied 3-3 with it wrapping up tonight and Friday at Joe Louis. Go wild in the comments. I will share with Gallagher my expectation on the number of times a certain phrase is included in the hilarious/pithy/bitter observations. We'll see if it's exceeded.
EDIT: 117 times just the phrase "fuck Detroit" was typed in the comments. New World's Record. Get Guinness on the phone.