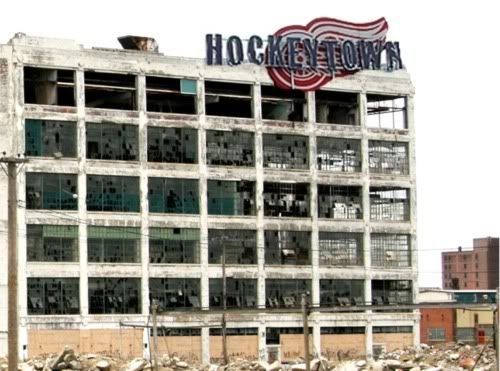 By Brad Lee
First of all, we're soooo disappointed the cowardly lion Aaron Downey won't be in the lineup when the Blues and Red Wings play their final game of the season Friday night in Hockeytownslum. Darren McCarty will take his place in the lineup. While McCarty is pretty good for a bankrupt, recovered alcoholic, admitted pot smoker who spent three months in rehab last summer, he's a shell of his former self. His career highs in goals (19) and points (49) came in the 1996-97 season.
But that's not what this post is about. This and this are what this post is about.
From On The Wings:

The idea that Aaron Downey is a coward or classless is ridiculous. The guy has been the epitome of class all season and, by all accounts, is universally respected in the Wings' locker room.
Because gaining the respect of Kris Draper is such an accomplishment.
There's no law, written or unwritten, that says he has to answer every challenge. Downey's job is to spark his teammates with big hits and the occassional fight, not to allow himself to be goaded into dropping the gloves.
Sorry. We disagree. Hockey can be a very honorable sport. Much of what happens away from the play and at the whistle involves standing up for one's teammates. That's what Downey was doing at the end of the March 5 game. And that's what D.J. King was doing Tuesday night. Frankly, Downey getting benched for Friday shows the organization knows he's a friggin' joke.
I'm sorry Blues fans, but if you're looking for someone to call a coward or classless, look to your own team. Downey is a much better man than, say, Barret Jackman, who was, is, and always will be, a donkey.
Awesome. That's such a smart thing to compare a guy who won the Calder, who has a long term contract and who is a respected leader on his team and put him up against Downey who has bounced from team to team and wasn't considered good enought to play for the Blues. We know you guys HATED Dallas Drake when he was leaving his feet to hit Red Wings players last year. Bet Detroit fans love him now. And we also would wager heavily that if Jackman donned the winged wheel, he'd be celebrated across the Rust Belt.
From Abel to Yzerman (hosted at Kukla's Korner):

Speaking of punks, and I mean bitter little whining men who fit the street definition of "bitches", let's move on to Blues fans.
See, now these are Wings fans we can get behind! They even stoop so low as to pay attention to us poor little Blues fans, us punk ass bitches. What intelligent commentary.
Lots of big talk at the Blues blogs and message boards claiming St. Louis is going to exact revenge on Aaron Downey tomorrow night.
Small correction, tough guy. As far as we know, there's only one Blues blog. And we never promised the Blues would exact revenge. We just called Downey a coward.
I'm sure he's shaking. I hope he turns down every fight and laughs at them as he skates by their bench of goons and has-beens.
Ahhh. So this Wings fan understands Downey is a pussy, a guy with an alligator mouth that his parakeet ass can't back up.
***
Look, we get it. The Wings are going to win the their third President's Trophy in four years. They're a good team. The Blues are going to miss the playoffs for the third straight year. Obviously, the Blues are a bad team, a disappointment. Their collapse is a pox on the St. Louis metro area. But at least the Blues aren't going to fail miserably in the playoffs!
Go to any of the Wings' fan sites and see that the hand wringing started weeks ago. Dominik Hasek is old and fragile. Chris Osgood is trusted by no one. They're digging up fossils like McCarty. Datsyuk and Zetterberg as the team leaders have lost twice in the first round of the playoffs. They've got a few too many European players and not enough grit. They like to make the fancy play, but as the Ducks and Devils have proven, the fancy play doesn't always win the Cup.
This year is setting up to be a bitter pill to swallow for the Detroit faithful (at least the ones who still bother to buy tickets). It's understandable they want to take their frustrations out on an easy target. But all it does is cement the fact that Wings fans take shit too seriously, can't handle criticism and are waiting to jump off the bandwagon when this team faces a downturn after Lidstrom retires.
So Wings fans, enjoy the regular season. We'll be watching and expecting a postseason collapse. Again. Until then, have your fun.