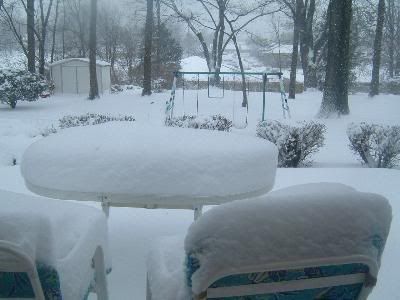 By Brad Lee
In case you're not in St. Louis today, parts of the metro area are under nearly a foot of snow that started falling early today. Other places, like the Brad Lee estate in O'Fallon, Mo., got a few inches. In nearby Lincoln County, they got none. Weird, weird storm my friends.
The Blues Web site has a message specifically saying tonight's game will start on time at 7:30 p.m. So get your galoshes on, hitch up the dog sled and let's head down to the DrinkScotch Center to see the Blues push for the playoffs limp toward the infamous nine-game road trip.
Here is the preview from the NHL. The Blues have lifted the blackout for Center Ice subscribers (WARNING: the last time they said this, it did not happen). If you don't have the package, several bars around town such as Hooters (so I've heard) and Buffalo Wild Wings have the package. Or you can try to get it streaming on sopcast or you can watch with your mind via KMOX. Feel free to chat, share snow stories and recipes for snow ice cream in the comments.