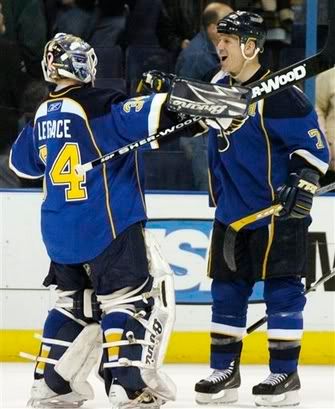 By Brad Lee
Things are hectic in the House of Lee this evening. Pretty sure some live blogging will happen but when and how much remains to be seen. Here's what we do know:



The Blues play at Detroit's slum of an arena (if Joe Louis were alive, he'd burn it to the ground) at 6:30 p.m. STL time.


The game is on the FSN in St. Louis and on NHL Network nationally.


Jeremy Rutherford says both Cam Janssen and D.J. King will sit tonight.


In the 18-paragraph preview on NHL.com, the Blues are included in five paragraphs. Thanks, Associated Press!


This post will be open during the game for witty observations and cutting commentary. Don't worry Gift, that doesn't necessarily exclude your best efforts.


We'll see you when we see you.
19:20 Rucinsky is on the ice. There's a hooking penalty. It's on Brewer. Miracles do happen.
18:40 Kerry Frazer Fraser looks like Martin Gramatica with that oversized helmet on his head. But he just evened it up, which is nice.
17:45 I can't wait for someone to google the term "fuck Detroit" and have this post come up as the No. 1 match.
16:46 Emmanuel Legace is officially a St. Louis Blue in my book. I almost forgot he was a Red Wing all those years. Of course I'll never totally forget but it's as close as any Red Wing can ever hope for.
15:00 Are the comments working correctly? They seem to be behind the action. If so, Gallagher I almost apologize for being snarky to you.
14:32 Datsyuk scored. Fuck Detroit.
12:31 The comments seem to be coming in batches, which totally fucks up our normal way of doing business. Keep trying and we'll see if the Internet elves (think Keebler but with Blackberries) can get the kinks worked out of that.
Apparently it's Barret Jackman's 27th birthday. Hopefully he won't be a minus-27 tonight.
And for the record, Federko says the Detroit goal was lucky, and anyone can get a lucky goal. I'm thinking he's on tape delay from Ryan Johnson's goal last night.
10:00 Blues kind of look a little scared right now. Way to start the longest road trip in franchise history.

gallagher Says:
March 5th, 2008 at 6:50 pm e
There are approximately 72 children in this house right now.
You don't work at the Kirkwood Imo's and drive a white pickup truck, do you?
7:40 Federko wants the Blues defense to try and score some goals coast to coast. Jay McKeee finds this hiiiiiilarious.

Gift Says:
March 5th, 2008 at 6:55 pm e
Do you think Smokeknob or Smokepole or whatever her name is is watching the game?
Smokebones. And I believe she'll be on the blog tomorrow.
6:23 Manny's body language is a mix of, "Why are you shooting this weak ass shit at me?" and "I'm tiiiired."
5:28 Hasek lost his stick, had a defenseman's...and the Blues couldn't get a stinking shot on goal.
And I don't want to hear "the birthday boy" once more tonight. He just hit the post. That's 27 spankings for you, baldy.
For anyone understanding the Smokebones comments, we saw an interesting sweater last night at the DrinkScotch Center. I have a picture. You'll see it Thursday.
3:55 Dominek Hasek looks like he's wearing one of those inflatable sumo wrestling suits. His pads look that big on his old and weathered body.
2:37 Did the fans yell at Brewer to shoot? Otherwise I'm not sure why he just did and got blocked.
1:33 Stempniak scored? On purpose? Really?
End of period.
SO the Blues pretty much played like crap most of the first period, got a nice shot from the point from Erik Johnson that was deflected by Stempniak who was ignored in front of the net and that was enough to go into the dressing room 1-1. Obviously the Red Wings said, "Don't bother paying attention to Stempniak."
McLaughlin will talk with Dallas Drake in the intermission. Hope he doesn't have his teeth in.
34 comments through the first period. Not bad for a 6:30 p.m. start.
I have a feeling the blogging is going to fall off soon. We'll just leave this post open for the whole game. Hope it doesn't get too large.
That's what she said.
Is Dallas Drake related to the character Sloth from Goonies?
Pat Paris: "We'll return to the frozen tundra of Detroit in just a moment." What. The. Fuck. Stop mixing your sports references. It would be interesting if the playing surface wasn't frozen every night (probably worth a memo to the guys at the DrinkScotch with the quality of the sheet this year). And the Frozen Tundra is in Wisconsin. Fucktard.
17:47 Almost three-year-old girls enjoy telling me what to do more than my wife does. Glad neither of them read the live blogs very often.
Blues have a little spark to open the second.
15:20 This is David Perron's third straight game. Hope he's got enough energy in the third period.
And now Federko is arguing over the merits of a statistic. I'm just glad he didn't say, "Well I don't know of a stat that measures heart/courage/clutchness."
13:38 Least favorite CURRENT Red Wing? Go.
Annnd we're back.
Hockeytown also has a sign advertising for Motor City Casino? Sounds like Too Many Nicknamesville.
6:15 It's 2-1 Detroit on a Franzen goal.
I hate Maltby.
No, I hate Draper.
No I hate Maltby.
Fuck, I hate both of them. But I think they love each other. Not that there's anything wrong with that.
5:00 It's a four on four situation, but the announcers were confused.

Gift Says:
March 5th, 2008 at 7:55 pm e
Federko has NO idea what is going on.
Yeah, but Kelly has a horrible time figuring out penalties before they put them on the board.
By the way, I was slow on approving commenters. Welcome Paul Goodloe. Former Newschannel 5 weather guy and current Weather Channel weather guy? Sweet.

Paul Goodloe Says:
March 5th, 2008 at 7:51 pm e
I have never stood Draper or Holmstrom. I despise Maltby more. I always thought he was a little bitch.
That's the trifecta right there. Just think how much douchebaggery will be in that dressing room if they call up McCarty from the minors.
1:00 Gary Bettman has apparently called Joe Louis. "Hey, tell Kerry to start calling this game like Yserman is still playing."
And that's the end of the second period. 2-1 Detroit.
97 responses before the start of the third period.
***
They just showed pretzels at the Joe Louis Arena. You think it's salt on the pretzels or little rocks of crack?
20:00 Detroit has a short power play on fresh ice.
16:17 Aaron Downey got two minutes for being a cave man. Memo to Marcus in Sweden: WE NEED ANOTHER CAVEMAN MEETING.
14:04 Well that power play did nothing.
13:49 Manny may be a little too tired. I think he was asleep as Detroit shot the puck.
Fuck. 3-1.
12:20 Let me take this opportunity when the game looks lost again that I have not and will not root for the Blues to lose for draft position. It's called fan tanking. And I see why you'd do it, but I can't. I just can't.
8:25 Do they have the Detroit clock on super fast or something? This third period is flying by.
8:00 Andy McDonald is one tough little shit. He just got an attitude in his own end in front of Legace. And Brad Boyes just missed the puck and making it a 1-goal game.

Paul Goodloe Says:
March 5th, 2008 at 8:42 pm e
We need about 9 David Backes' right now.
Here's the deal: gutsy player, willing to play a physical game. Will get better scoring I think. Plus, he's a great guy. Met him at an event last year, was great to talk to. Wife talked with him at the charity event Sunday night. She was gushing over him.
Wait, that came out wrong.
6:44 And it seems the Blues have switched on the cruise control. We'll see if they have any fire left for the last few minutes of this one.

Pagan Says:
March 5th, 2008 at 8:46 pm e
Are they seriously playing Miami Sound Machine at the Joe?
5:37 Wait, Motown. ANOTHER nickname. Fucking Detroit.
5:10 "Trying to hit Boyes in the slot." Sounds different if you say it out loud.
4:04 Perron was on the ice with Kariya. You think he got a little excited playing with someone other than the black Jamal Mayers and the white Jamal Mayers?
3:33 Mayers had Maltby bent over like a Brooklyn, Ill. hooker. No word on if Maltby left his teeth in tonight.
Paul Kariya figurine, that's life-sized, right?
2:34 It's 5 on 4 with the Blues' empty net. And how did McDonald not get a shot on a sprawled Hasek?
1:31 Empty netter for Datsyuk.

This is in reference to keeping the team at the rink to skate. They have to catch a plane and they played last night. I don't know how much they desrve it tonight.
Stempniak is fighting Rafalski who just bodyslammed Dutchie. That's No. 12's second fight in his career. The first was vs. Nashville.
I think Bernie looooves Pavel Datsuck. Remember, Federko finished as a Red Wing.
:22 Downey is a pussy. Won't go with Walker. So in the hugfest here at the end, Walker gave him about three face washes. He's been hanging with Maltby too much.
Surprised Kelly didn't remind us the Blues are still only three goals down.
AND THAT'S THE GAME
"The Blues really did some good things, but they didn't get enough shots." Federko. Man.
Here's the shitty thing about this trip. The Blues fly home tonight and then fly to Vancouver on Friday for a game Saturday. That's a lot of extra traveling.
Thanks for playing along. We'll try to bring you more fun and games Thursday.