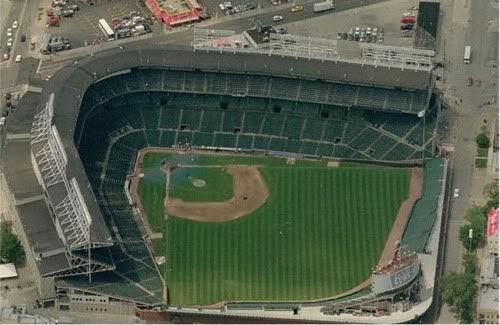 By Brad Lee
The Blackhawks are lobbying hard to host an outdoor game in the near future, probably at Wrigley Field.

An outdoor game in Chicago "would make a lot of sense" to NHL commissioner Gary Bettman, and the site could be the "Frozen Confines" of Wrigley Field.
Bettman did not commit to staging one in the Windy City during a news conference on Wednesday, but he said the emerging Blackhawks are on the list to host one—possibly next season.
"As we do these games in the future, obviously, Chicago will make a lot of sense," he said.
New York, Boston, Detroit, Colorado, Montreal, Toronto, Pittsburgh and Philadelphia have also expressed interest in hosting an outdoor game, and Bettman said his "guess" is there will probably be one next season.
First of all, the league got a lot of exposure on New Year's Day with the game in Buffalo. The weird thing about having it at Wrigley other than the rink alignment compared to the seats would be the size of the stadium. More than 71,000 attended this season's game in Buffalo. Wrigley only holds about 35,000 for baseball.
If Chicago is on the fast track, the Blues should try to jump on that train. Seeing the Blues and Hawks battle on the national stage in an outdoor game would be the franchise's biggest moment in years. But that also calls into question the league letting the Blues play that game. They would more likely tab another Original Six team. But we can dream.
Whadya think about the Blues playing in an outdoor game in Chicago? By the way, I've already told my wife I will be at any outdoor game the Blues play. Sounds like a special edition of Game Time, Gallagher!