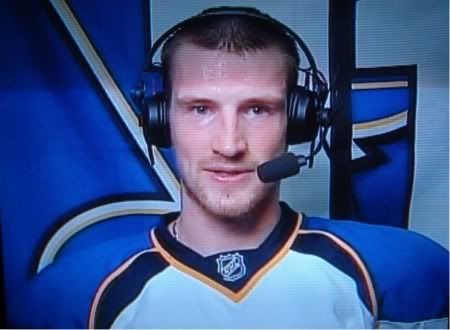 By Brad Lee
Gallagher asked for a Boyes live on my TV shot. There you go.
18:12 Bernie thinks the Blues need to control the Sedin line. Shocking thought there.
17:49 Blues are getting a power play for the first time in the game. Shocking thought there.
15:09 No shots on the Blues power play. Nice to see Perron out there.
Somebody should tell almost 3-year-olds that we lose an hour tonight so they should lay down and be quiet in bed.
14:16 Boyes in the clear...hits the goalpost and goes wide. Dang. We would definitely hear the 50 plateau mentioned with a second HomeBoyes goal.
13:48 Four beers in, this game is a little more fun.
Hey Dooks, which commercial has Skeletor?
13:12 And Jackman with a late flurry wins that fight against Kesler, who was going to be a prick and not take his visored helmet off. Prick.
Hope he didn't break his jaw.
Jackman I mean.
12:04 Federko grew up with one TV channel. That kind of explains a lot, actually.
And Boyes missed another open net, according to Kelly.
The boys (not Boyes) are complaining about the quick whistle.
11:13 Say what you want about our little Cammy, but it is fun to see him skate the opposite way of everyone on the ice to make a hit on a Nuck. Of course that opens himself to a charge when he gets a 50-foot head start, but that's a minor detail when he dosen't get called.
9:44 "The Canucks are on their heals," Federko says. I'll drink to that.
WHERE THE FUCK IS THE ANSWER MAN?
Gravy, get on the horn.
9:23 OK Game Time Nation. I have one request for the rest of this road trip. I would love to live blog a game from the Answer Man's pad. He says I'm an honorary member of the AMC. I think it would rock to be live from his mom's basement with Phyllis upstairs. I'm excited even thinking about it.
AM, let's make it happen.
8:35 "A shot by Daniel, no Henrik. It was Daniel," Kelly said. That's what she said.
7:39 Nice replay showing EJ's long strides to get back in the play after pinching in. Prongeresque, dare I say?
7:14 BOYES! On the road to 50! "The magic is back in the stick of Brad Boyes," Federko said.
That's what she said.
That was a Jamal Mayers type goal where he was just throwing puck on net from the boards and somehow, someway it goes in.

Big G-Man Says:
March 8th, 2008 at 10:27 pm e
May the 50 goal talk begin!
It already has. It already has.
5:45 The White Jamal Mayers is feeling it watching Boyes. Suddenly he's shooting the puck from the wings. Of course he missed everything, but he's obviously feeling it. If that guy could get his shot on net 40 percent of the time, he'd be one of the best players on the ice.
I just read what I typed about the White Jamal Mayers. I may be drunk. Someone take my keys.
5:31 Legace falls on his back to stop a puck. Never like that technique. I call it the Turek.
And I fucking love all the optimism shown in the comments. Paul Goodloe couldn't forecast his way out of a weak low pressure system.
4:02 Some fucknut named Alex Burrows just scored on a breakaway. Prick.
"The Blues kind of got caught," Federko said. No shit. Did Manny see that puck?
3:31 Woywitka going to the box for hugging on the fly.
2:56 Ryan Johnson blocks a shot in an uncomfortable way. Check.
2:21 Are the fine Vancouverites yelling shoot? Kind of seems like it. Morons.
We're going to need a lot more "Fuck Detroits" to beat the site record for most in one post.
1:14 Stempniak is good at hitting Luongo.
:55 This suddenly feels like a playoff game with the crowd and the intensity. Nice. Closest the Blues will get all year to that feeling.
END OF THE PERIOD
2-2. Backes had a good shot at the buzzer.
We'll let you know in the comments when the third period is up and running. Good luck Goodloe wiping down your keyboard.