By Sean Gallagher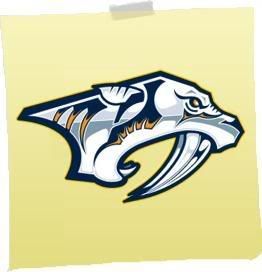 That's right, Blues fans, we've decided to do the unthinkable. Rather than slip into our now-annual beer-fueled coma that keeps us from paying any attention to the hockey playoffs while we get over the fact that our beloved Note have fallen short for the third year in a row, we're going to pick another team to pull for (half-heartedly).
As I've written before, whenever the Blues inevitably get knocked from the playoffs, I cannot bring myself to watch even one game of the subsequent playoff round. After a couple weeks I've been able to numb myself and get back into the swing under the guise of "hockey fan," but it's just not the same. To be honest, it's more of a reason to drink too much, starting way too early, during the work week.
This year, I have no interest in watching the first round of the playoffs. Unfortunately for me, I fucked up and mentioned to Brad Lee that if I had to root for a team, I'd take "whomever is playing Detroit." Which is actually true, except there's no way I uttered the word, "whomever." I'm not that big of a douchebag, regardless of what 89% of the "greater" Detroit area thinks.
Next thing I know, I'm on point to root for Nashville simply because they're the first team that gets to try to out-physical the Red Wings and send them home to an early off-season of media and fans blaming their goalies, Hasek and Osgood, for the team sucking out this spring. So, here goes.
The Preds travel to HockeySlum to open the series Thursday. Unless something changes on game day, the Joe Louis Arena, Rathole and Future Parking Lot will not be sold out for the game. As of 11 p.m. central, plenty of tickets were still available through the Ticketmaster site. If this surprises you, you haven't seen much Red Wings hockey this year. (Not that I blame you; I can barely bring myself to watch them, even when they're playing the Blues.) With the American auto industry in the midst of a 500-year downturn, a fanbase that trends about 80% know-nothing bandwagon fans / 20% solid fans who paid their dues during the team's dark days, and the average cost of a seat in the building screaming towards the stratosphere, the Wings have had a hard time filling their building, despite a President's Trophy season.
The team reported a 94.2% attendance for the season, but if you've watched their games (again, I hope you haven't) there has been way more than 5.8% of the seats empty most nights. But a National Hockey League team wouldn't fudge their official attendance numbers would they? Nah. Nonetheless the reported dip stands in stark contrast to a team that has averaged 100% (or more) attendance ever since 2002.
So, what do Red Wing 'fans' know that we don't? They know that the team has reached saturation on ticket prices and that despite the fact that they eat Little Caesar's pizza pizza every night night, their owners continue to raise ticket prices. Plus, even they have to admit that they're worried about their chances in the second season, especially considering how good Anaheim and San Jose have looked. Oh, and yeah, how they're worried about their goaltending, as always.
I gotta admit, the annual lambasting of their goaltending is something I look forward to every year. Hell, if not for their desire to roast the goalie for everything, maybe we wouldn't have Manny Legace here in St. Louis. Thank you, retarded media and fans!
So, as I'll likely not be able to bring myself to watch any of this game short of some highlights, here are a few predictions for the game:



Some dickwad will toss an octopus onto the ice at a completely inappropriate time. Probably because his wife is tired of having it in her purse, tied game be damned.


At least three fucksticks on cellphones will stand up and wave their arms whenever play comes to their end of the rink so that their buddies can confirm that, "Yes, dipshit, I can see you on the broadcast." Look, I know this happens at every rink, but the older Joe has particularly bad angles for the cameras and every game we're subjected to dumbasses pulling this stunt, leaving their section early or standing up and blocking the camera view whenever something interesting happens. They're not the only team with embarrassing "look at me on my cellphone waving my arms" fans, but their fans are the most egregious. Yeah, egregious. Look it up, Detroit.


Jordin Tootoo will illegally hit some Wing up high. Yeah, I know it's a gimme prediction, but for the first time I can actually root for it. Sort of. OK, fine, the guy is a douche.


Nashville will try to outwork and outhustle and outhit the Red Wings. They will still lose. If I know anything about the Evil Empire it's this: Your less-talented team can outplay them for 58 minutes and still lose. This will happen in at least one game in the series. I hate to say it, but rooting against the Wings is gonna be a battle for me. I wish it'd be over in 4-7 games, but I just don't think it'll happen. Nashville just isn't good enough.


Anyone who can stomach watching this steaming pile of hockey will be subjected to at least 10 mentions of David Legwand's Detroit upbringing and at least one soft-focus video piece of Legwand driving around his old stomping grounds talking about his youth. Ug. It's like the Olympics come early.


If you'd like to get some bloggy points of view about the game, I'd recommend this
Predators
site and, shockingly, a funny Red Wings site. Though I'd best be honest about the
Red Wings blogger we recommend
. We came across him because he was, well,
blasting us
and our anti-all-things-Detroit views. Much to our delight, this was the guy we've been looking for out there: a Red Wings fan who can fire back and do so in a funny way. Plus, he seems to have a different take on his team than the raving lunatics at most of the mainstream Wing blogs that basically become links clearinghouses for all the shit being printed by the Wings' mainstream media outlets.
Um, what's the point of being a blogger guy and being truly independent to say what you (and the rest of the fans) are thinking if you're just going to link to the local paper's story and add a, "yeah, what he said" comment?
Be warned though, he's an actual smart guy and his blog covers other topics that aren't, like, hockey. Whatever that's all about.
Anyway, here we go down the rabbithole. Let's Go Blues! erm, uh, Predators?