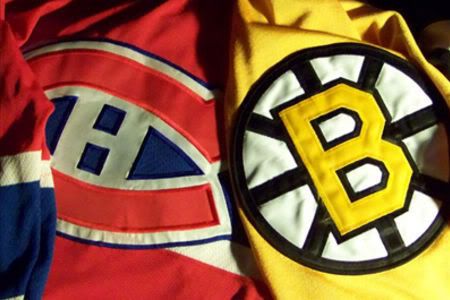 By Brad Lee
In case you hadn't noticed, we're "rooting" for an Eastern Conference team as well as whomever is playing Detroit. And maybe because we don't feel very confident in a No. 8 seed going into Hockeyslum and winning or because one of their fan blogs is a lot like us, we're pulling for the Montreal Canadiens, probably the best team east of Detroit (don't tell anyone in Pittsburgh we said that).
We admit right up front: we know next to nothing about the Habs. So for some knowledge we offer two sources. First is the great site Four Habs Fans. One of the four (they all go by HF10 or HF69 so it's hard telling them apart) wrote this for us.
1971 - a young goalie in his first NHL season, Ken Dryden, leads an unheralded Habs squad to a Stanley Cup.
1986 - a young goalie in his first NHL season, Patrick Roy, leads an unheralded Habs squad to a Stanley Cup.
2008 - a young goalie in his first NHL season, Carey Price, leads an unheralded Habs squad... aw fuck, who am I kidding? Habs fans are so used to sucking over the last decade and a half we can barely believe we are even in the playoffs. Our days of planning the parade "on the usual route" are truly days of yore. Sure, when you beat your first round opponent eight times during the season you at least think you have a chance. Barely. Conference champs? Ha. The Pens handed it to us on a platter so they could play the Sens. Habs limp into the playoffs with key injuries to our Captain and the only D we have who was built for the playoffs, Mike Komisarek. Habs are an offensive machine, leading the league in goals scored, but defence wins in the playoffs.

This exercise in pessimism and reverse psychology has been brought to you by Molson. Go hockey.
***
For a completely different take, we turn to Greg Wyshynski and his preview on Deadspin. We'll try not to steal the entire thing.

Oh, joy: A matchup of the most exciting team in the entire League against a team whose only hope is to smother the fun out of it, like putting a damp pillow over a clown's face.
(As a Devils fan, I think I just had a moment of self-revelation and would like, on behalf of my colleagues, to apologize for the last 15 years.)
To call the current incarnation of this Original Six rivalry lopsided would be an insult to Tara Reid's boob job. Montreal has flat-out owned the Bruins, having won the last 11 meetings between the teams. They're better statistically across the board: In goals for, power play, penalty killing, and actually only 0.01 off the goals-against pace against a Claude Julien team that preaches defense first, second, third and fifth. Outside of the inspirational kick of seeing Patrice Bergeron make it back from concussion-ville and the potential for Tim Thomas to steal a game in goal, a Habs' loss here would be absolutely bat-shit insane.
Key Match-Up for Montreal: Shattering Spirits vs. Glimmers of Hope. Drop Game 1 to the Bruins, and this could be a dramatically different series. If you have your jackboot on the back of Boston's head, you don't let it up to breathe - you stomp the curb, son.
Key Match-Up for Boston: Shaken Confidence Vs. Carey Roy Dryden. The Canadiens have placed their faith in rookie goalie Carey Price, and play stellar team defense in front of him. Boston has to plow through that defense, crush his newbie soul and get inside his head to win this series.
Wyshysnki then predicts the Canadiens to win in five games.
The first game of the series is tonight. We'll try to watch and learn about our new rooting interest. Maybe we'll even think about doing a live blog or something during the playoffs.