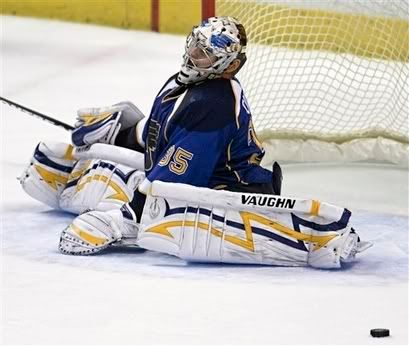 By Brad Lee
At first, we thought maybe the Blues were proving us wrong and showing that they could indeed come out and play a fast-paced, exciting and winning brand of hockey. It sure looked like the team was making a statement on the national bullriding cable television network that this team will be different come next season.
And then Hannu Toivonen happened. Again.
It is depressing to know that when the backup comes in, the team has no chance. It is completely shitty to make the statement that finding a legit backup goaltender is one of the most pressing needs for next season.
Here's what "Ears" said after the game to reporters:

"I'm not playing good enough ... that's what it is," said Toivonen, who allowed four goals on 18 shots.
He's a man of few words...but he's obviously right. But the fact that the Blues managed only seven shots after the sizzling first period is downright dreadful.
Your disgust in the comments.