By Brad Lee
Actual phone call at about 5 p.m. Monday:
Me: So when Boston wins tonight, I'm going to write a really long post detailing how St. Louis Game Time is a big jinx. The Four Habs Fans never knew what they were getting with us.
Gallagher: Hey, the Cardinals won the first year we did the baseball paper. And at the time it was called Game Time even though the second year it was called First Pitch. And we're not doing it anymore... Ok, I can see where you can say we're a jinx.
But the Canadiens threw off the chains of the GT hex and pulled out a decisive 5-0 victory at home in game seven of their first-round series against Boston. Did we mention we hate Boston? Yeah, that was nice. However, the goal with under 10 seconds to play was kind of a dick move. The hockey Gods might remember that in a future game.
So let's all shake hands, fake Canadiens fans, and get set for the second round. We might even dust off the old live blogging machine and do one for one of the second-round games.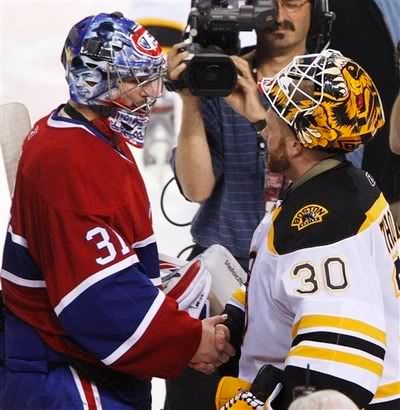 EDIT: In case you haven't heard, there was rioting in Montreal Monday night where things got out of hand when fans started taking off their shirts after the game. Thankfully our own shirtless mad man was rooting for the Bruins and was nowhere near Montreal at the time. Allegedly.