By Brad Lee
Keith "Big Walt" Tkachuk scored his 500th career goal in the waning seconds of the 2007-08 season. It was en empty netter from inside his own blue line. It was also shorthanded. It came during the Blues' season finale Sunday in a 4-1 win in Columbus. His first career NHL goal came for the Winnipeg Jets March 18, 1992.
Tkachuk becomes the fourth American player to hit the plateau and the 41st player overall. Jeremy Rutherford of the Post-Dispatch described the goal well.

Tkachuk was helping kill off a Blues penalty, which became a 6-on-4 advantage for Columbus when goalie Fredrik Norrena was pulled. The puck came off the stick of Ryan Johnson and went to Tkachuk, who rifled it 175 feet straight into the opposite-end goal.
"I never thought it would be a penalty-killing situation," Tkachuk said, laughing. "I'm usually the last guy they have on the ice penalty killing."
His wife and kids were back in St. Louis, but Tkachuk experienced the next best feeling. His teammates hurdled the bench and skated across the ice to mob the 36-year-old.
"I don't care how macho you are ... it makes you feel pretty good," Tkachuk said.
In an interview with Chris Pinkert for the Blues' Web site, Tkachuk put the milestone in perspective:

"I want to win," Tkachuk said. "I mean, (500) is a number and I've been blessed to be in the NHL a long time, even more blessed to play with a lot of great players. That's the reason I'm at the number.
"But at this point, I want to win and I want to win here. That would mean everything."
Look, this season was a complete bust. I smiled when I saw the puck go in the net and knew it was No. 500. It was a nice moment. But it sure as hell doesn't make missing the playoffs feel any better. And while I've always liked Tkachuk for his style, his sense of humor with reporters and on the radio, he's been mostly a disappointment during his tenure with the Blues. But that doesn't mean we don't want to see the guy do well.
Here is a quick retrospective of Walt, who has aged before our eyes.
In college:

In Winnipeg:

In Phoenix: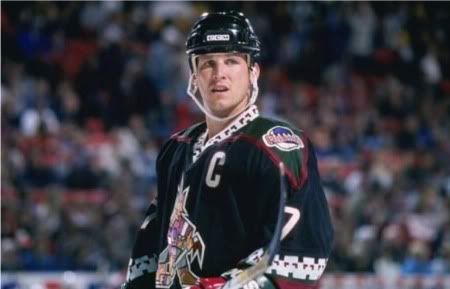 In Atlanta:

After scoring goal 500:

The 500th puck: