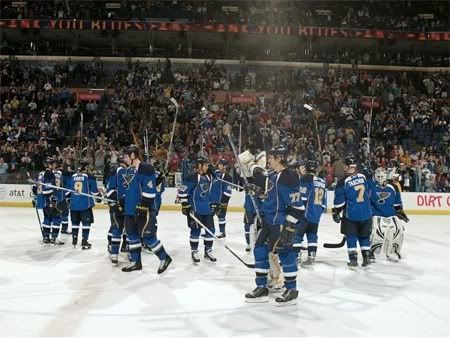 By Brad Lee
Hopefully you were at the final home game of the season Saturday and bought a copy of the paper edition of St. Louis Game Time. In it, you would have read all sorts of thanks to various contributors, vendors, scalpers, homeless guys, bartenders and gentle security guards. Oh, and readers too. But in case you didn't make it or you live in Sweden or go to school in the Carolinas or live in the Pacific Northwest or whatever, this post is for you.
This has been one helluva season. It's been great for stretches and absolutely fucking horrible. And we've been here for every stinking game. We've stayed up late and live blogged horrible losses on the West Coast. We've put up with taunts from French Canada and Fucking Detroit. We've had incredible insights into D.J. King's condo, the Blues' dressing room, the press box buffet and all points in between.
The purpose of this site is to obsess about the St. Louis Blues. And since June 2007 we've had millions of page views and at some point in the year started averaging more than 1,000 unique viewers a day. It's blown us away. Even though a post may only have a dozen comments (or several dozen for some of the live blogs), hundreds and sometimes thousands of people are reading our posts and your comments. We know people across the blogosphere come here to take the temperature of Blues fans. We are proud to represent the fan base and give almost anyone a voice to express how they feel about this team. Even fans of fucking Detroit. So thank you to all the regulars who keep stopping by to play in the fun and games and everyone else who stops by and wanders around a little. You help make this site fun and interesting. And thanks to all the folks who have contributed posts this year. You guys don't suck. Really.
And even though the Blues' season is over, we're not going away. We have officially adopted two teams. We had so much fun interacting with the guys from Four Habs Fans and their fans, the Canadiens are our choice for a rooting interest in the Eastern Conference. This might be on the Game Time bulletin board in the lunch room (if we had a lunch room):

Here in the Western Conference, we're rooting for...whomever is playing the Red Wings. You'd think that we'd take the high road and actually pull for a Central Division team to win the Stanley Cup. Nope. Sorry, we lost our map and we'll just stay here on the low road where we like it. And any Wings fans that might read this, no we're not bitter. We just don't like your team. Or your team's fans. Or your city. That's about it. So (gulp)...Go Predators! You might find this on the Game Time refrigerator (if we had a refrigerator):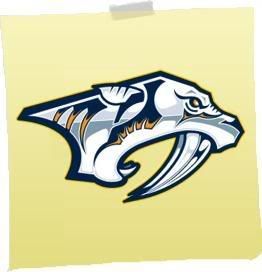 So there you have it. Keep coming back. The Blues may be done for the year but we're just getting warmed up.